Wike's Successor, Fubara Slammed Hours After Inauguration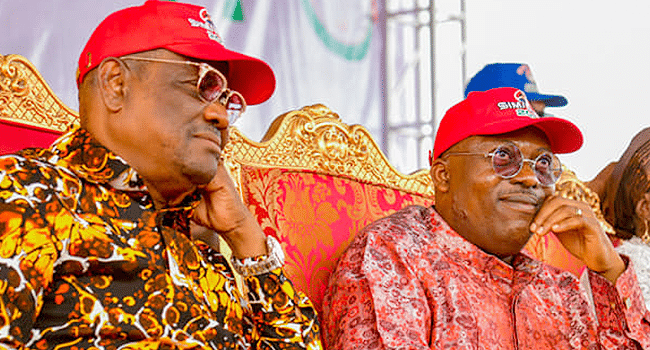 The successor of the immediate past Governor of Rivers State, Nyesom Wike, Siminialayi Fubara has come under heavy criticism after vowing to 'stay strong to Christian values' and 'govern the state with the fear of God'.
Naija News reports that Fubara, who was sworn in as the Governor of Rivers State on May 29th, made the declaration whilst unveiling his official portrait via Twitter, on Wednesday, 31st May, 2023.
He shared the portrait, saying: "Rivers State is a Christian State, and God is our foundation. We shall govern with the fear of God and stay strong to our Christian values of trust, faith, love, care and sacrifice."
Reacting to the statement, some Nigerians slammed the governor for weaponizing religion after the outright rigging allegedly perpetuated by Wike in favor of the presidential candidate of the All Progressives Congress (APC), Bola Tinubu, who ran on a Muslim-Muslim ticket.
Recall, BBC recently published a report detailing the anomalies in Rivers state that contributed to the emergence of Bola Tinubu as president-elect.
According to the BBC, the results obtained from polling units across the state differed from what was announced by the Independent National Electoral Commission (INEC).
Reacting to Fubara's post, Abdul -Aziz Na'ibi Abubakar wrote; "A christian state that rigged out their Christian brother in favour of Muslim/Muslim ticket."
El- Bonga wrote: "I don't have a problem with this statement; Rivers can be views as a christian state. However, this tweet wouldve made major headlines amidst online cries if, for example Governor Abba says: "Kano is a muslim State and we are committed to govern it based on Islamic value."
Taha Adam wrote; "If Kano or Sokoto (The base of Sokoto Khalifare ) says this Muslims would have been trending by now! Hypocrisy 101.Atleast don't use religion to steal, govern in line with the teachings of Prophet Jesus."
Ridwan Oke wrote: "A northern governor tweets similar stuff and this would be trending already."
Jackson Ude wrote: "And who cares if it is a Sango, Egbesu, Buddhist or Amadioha state. Wasn't it a Christian state when your mentor was spending millions getting drunk on a 40yrs old Whiskey, rigging elections and looting the state's resources? You guys would hide under Christianity to perpetrate evil. Get down to work and spare us your religiosity!"
Oyee luke wrote: "Na u know waiting you day talk ooo leave my Governor alone he has told you it you don't like it go and hug transformer."
More Reactions