Buhari Seen In Viral Video Complaining About Air Conditioning In Daura Home – Nigerians React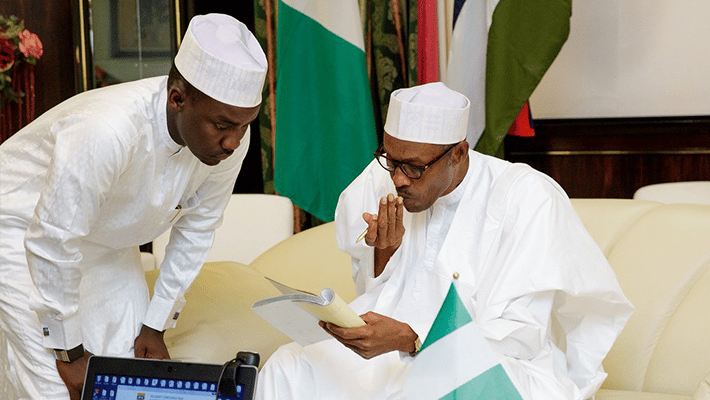 A viral video has surfaced on the internet showing former President, Muhammadu Buhari, complaining about the air conditioner in his home in Daura, Katsina State.
Recall that Buhari and his family vacated their apartment at the presidential villa in Abuja on Monday, May 29, 2023, following the expiration of his second term in office.
Naija News reports that Buhari and his family jetted out of the nation's capital city on Monday immediately after handing over government to President Asiwaju Bola Ahmed Tinubu.
The former leader had repeatedly said he is returning to Daura to continue his pastoral work after leaving office.
However, in a viral video sighted by our correspondent on social media, Buhari and his wife, Aisha, were seen in 'their home' amidst family members in what looks like a home welcome.
Buhari, however, caused a scene as he was seen complaining pointing towards the Air Conditioning (AC) at a corner of the house while others responding to a prayer session being led by a woman.
See the viral video clip below:
Nigerians reacts:
Naija News reports that the above scene involving Buhari has since caused a barrage of reactions on social media.
Some of the reactions go thus:
@Irunnia – Is it that he is disguising or is this actually his home??? I'm expecting something massive with all the money he looted.
@bakassi_s wrote: If you believe this is your ex-president's house, I have an island property to sell to you in Calabar
@harbyodun03 – If he had done the necessary thing in the country he wouldn't be lamenting about heat. Na heat go kee am
@MrDEE65931449 – That is their village farm house naah. A Farm House with Air Conditioner na your mate? Yusuf alone is worth more than 100 Billions Naira. Make anybody no fall for this caping o! E get why!
@obaroddy – So this is the house he constantly goes to whenever he does sallah and scamming trips to Daura.
Dey play na.
@proud_mount – He has a London home… He's probably confused why there is no power like his London house or Aso Rock
@Lefter_11 – Buhari is not a thief , neither corrupt. That's why the masses loves him .
If he's to contest for election again, he'll win.
@OgoJrMathew – Baba was earning a good amount as salary to have been able to transform this to something more befitting, so make them no the wyne us. Yes he as a person is not corrupted but he was well paid as a Nigerian president, abi na charity work him go do for 8year.
@_ManOfPeace_ That's not his home. He is disguising. We have seen the place he normally receives visitors when he travels home for sallah. It is nowhere like this
@MistAr_Juice – Buhari had decent intentions but sadly he enabled favoritism, impartiality and national cake sharing and turned a blind eye.
@BejayBake – Some Fulani/ Hausa prefer simple life but that doesn't mean they they don't have billions in their account and some turn their wealth into farming.
@EBajjali – Do you have any proof that Buhari loot? Look at house, if sincerely he loot as you claimed; money is spiritual at least he will still have better AC now! Make una Dey think!