What Peter Obi's First Witness Told Tribunal About Tinubu In Court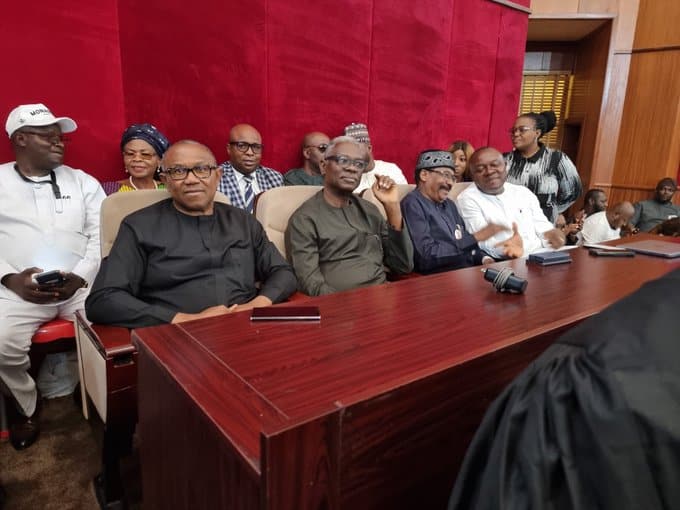 The witness presented in court by the Labour Party (LP) presidential candidate, Peter Obi has insisted that Nigeria's President, Bola Tinubu was fined 460,000 dollars by a court in the USA in a case related to drug trafficking and forfeited the said amount to the American government.
As earlier reported by Naija News, Peter Obi and the Labour Party on Tuesday presented their first witness in court in the suit challenging the victory of President Bola Tinubu in the February 25 election.
A lawyer, Lawrence Uchenna Nwakaeti, from Ihiala, Anambra state, was presented by Obi's legal team as their first witness.
As Obi and LP commenced their trial today, their suit is hinged on the non-qualification of Tinubu who contested on the platform of the All Progressives Congress (APC) as a result of the double nomination of his Vice, Kashim Shettima, and the alleged drug trafficking conviction in the United States.
The witness adopted his statement on oath and also admitted he obtained the "proceedings of the United States District Court" on Tinubu's alleged forfeiture.
Speaking under cross examination, Nwakaeti when asked by the counsel to the Independent National Electoral Commission (INEC), A.B Mahmoud to confirm whether all he told the court about electoral forms and the U.S. Court Judgment was his legal opinions or not said his statement was in line with "pure law".
The witness admitted that the judgment presented against Tinubu was not registered in Nigeria and there was no certificate from any consular in Nigeria or America in support of the judgment.
He, however, maintained that "the judgment speaks for itself."
Asked by the APC counsel, Lateef Fagbemi that, "As a lawyer, you are aware that these documents are not registered in Nigeria and there is no certificate attached to the document from the US?" to which Lawrence replied that there are certificates. (clonazepam)
"Is there a certificate from the US consular?"
"No certificate from the consular," Nwakaeti replied.
When asked by Fagbemi to produce a copy of the charges against Tinubu, the witness said he had none but maintained that the forfeiture are from civil proceedings.
"You are aware that all the proceedings were civil proceedings?"
"Civil forfeiture proceedings," the witness replied.
Counsel to Tinubu and Shettima, Wole Olanipekun asked the wetness, Nwakaeti: "You stated emphatically that Tinubu was fined 460,000 dollars in USA?
"Will you be surprised that not a single line or word relating to fine was mentioned in the US Court Judgment?".
The witness however insisted that Tinubu was fined.
After discharging the witness from the testimony dock, the tribunal adjourned hearing till tomorrow, Wednesday.