Senate Presidency: 'I Won't Step Down', Orji Kalu Insists, Says 'Yari And I Are Forming An Alliance'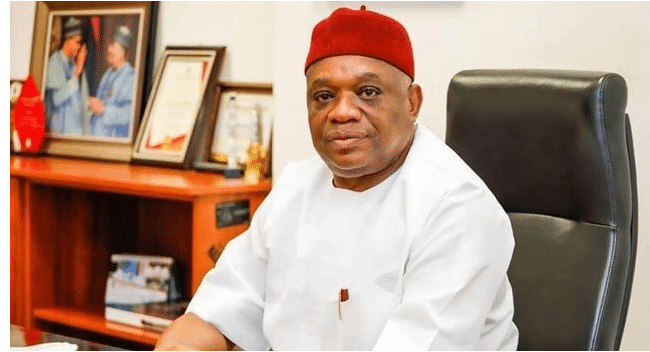 The Chief Whip of the Senate, Orji Uzor Kalu has insisted that he would not withdraw from the race for the seat of the Senate President of the 10th National Assembly.
Naija News recalls that the leadership of the All Progressive Congress (APC) had endorsed Godswill Akpabio (Akwa-Ibom) and Jibrin Barau (Kano) as their preferred candidates for the positions of Senate President and deputy respectively.
A development that has stirred a lot of anger from other aspirants for the principal positions of the 10th NASS including Kalu.
In a fresh development, it was gathered that Kalu on Tuesday told pressmen in Abuja that he was not withdrawing from the race for Akpabio.
He revealed that instead he and a former Zamfara governor and a frontline contender for the position, Abdul'aziz Yari, who is also aggrieved about the APC's zoning arrangement, are forming an alliance which would soon be known.
He submitted that "I won't step down for anybody. We are talking with former Governor Yari. Our group and his group are talking, intimate talk and partnership.
"We will make sure that no one zone can produce the Senate presidency. What we are trying to do with Senator Yari is a united partnership that will work for Nigeria.
"In the coming days or weeks, that partnership will be unveiled, so we are in serious talks. I cannot deny it.
"Yari is a friend of mine and I'm his friend and we have decided to talk. We have been speaking for the past four weeks and the result will be unveiled by our sponsors. He has his sponsors and I have my sponsors.
"So, the sponsors will come together to decide what direction this partnership will be. I'll be very happy to reveal what the sponsors will say.
"Two of us are thinking of the integrity of the Senate and support President Bola Tinubu and Vice-President Kashim Shettima who were our colleagues. If you are thinking that what happened during Saraki's time, it will never happen again."