VIDEO: Podium Collapses As New Kano Governor, Abba Yusuf Is Being Sworn-In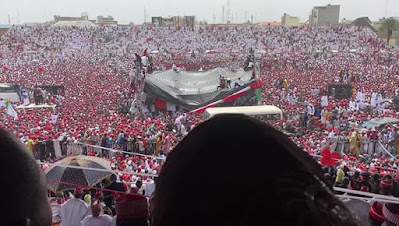 The stage on Monday collapsed during the inauguration ceremony of Kano State's new governor, Abba Yusuf.
According to Channels TV, in a video shared on Twitter,  Yusuf Abba, his deputy, and the acting chief judge were all on the podium, thankfully, no life was lost and they all are safe.
See the video below;
Please Forgive Me, Ganduje Begs People
Meanwhile,  Abdullahi Ganduje on Saturday asked the people of his state to forgive him.
According to Ganduje, he needs to seek for forgiveness because he has very few days to leave office.
He further stated that he has forgiven anyone who offended him and he wanted them to also forgive him.
Ganduje said, "With this, I can say that the end of my tenure has come as a governor of Kano state. I am bidding you farewell and I wish you all the best in life.
"For those whom we have offended, already our Imam has preached about forgiveness. From my own side, I have forgiven you all. Whatever someone said about me I forgive him. I also beg you to forgive me. Thank you."