Security Swings Into Action As Unidentified Man Breaches Protocol, Approaches Tinubu On Podium (Video)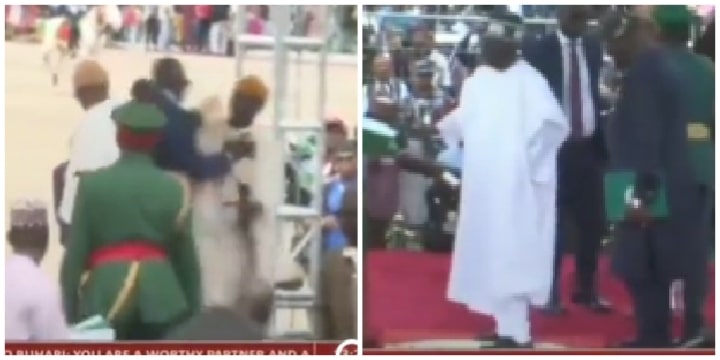 A video making the rounds on social media has shown the moment a man who tried to approach the President, Bola Tinubu was pushed off stage.
The man who was holding a camera had breached security, climbed the podium and was about to approach Tinubu when the security guards spotted him and violently pushed him off the stage.
Watch the video below,
I Will Review Naira Redesign Policy
During his inaugural speech at the Eagle Square in Abuja on Monday, the president announced that he would review the naira redesign policy implemented by his predecessor, Muhammadu Buhari.
Addressing a diverse audience comprising government officials, dignitaries and citizens, President Tinubu acknowledged the importance of a stable and efficient currency system for economic growth and stability, while describing the naira redesign as a harsh and hasty policy.
He said: "Monetary policy needs thorough house cleansing. The Central Bank must work towards a unified exchange rate. This will direct funds away from arbitrage into meaningful investment in the plant, equipment and jobs that power the real economy.
"Interest rates need to be reduced to increase investment and consumer purchasing in ways that sustain the economy at a higher level. Whatever merits it had in concept, the currency swap was too harshly applied by the CBN given the number of unbanked Nigerians."