Five Key Points From Tinubu's Presidential Inaugural Speech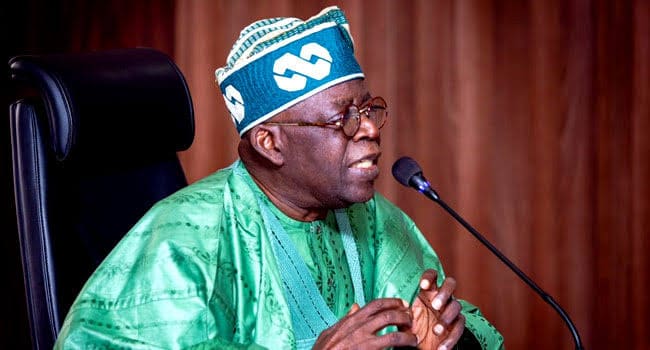 On Monday, May 29, Asiwaju Bola Ahmed Tinubu was sworn into office as Nigeria's next leader after former President, Muhammadu Buhari.
The All Progressives Congress (APC) candidate in the February 25th presidential election was sworn into office by the Chief Justice of Nigeria, Justice Kayode Ariwoola.
After a turn of events at the Eagles Square in Abuja today, Tinubu delivered a long speech, stating what his administration has for Nigerians in the next four years in office.
In his address, the Nigerian leader who thanked God for helping him thus far believed that the almighty would provide him with moral strength and clarity of purpose when he and his cabinet may have reached their human limits.
To help our readers better understand the long speech, Naija News picked out ten key points from Tinubu's inaugural speech today.
1 – Tinubu Thanked Buhari
Having thanked his maker for the victory made through the electioneering period, Tinubu commended his predecessor, Muhammadu Buhari.
According to him, the former President has been an honest, patriotic leader who has done his best for the nation of Nigeria. He described Buhari as a worthy partner and friend, stressing that history would be kind to him.
Recall that there are pending case suits at the court filed by candidates of the opposition parties, including Peter Obi of the Labour Party (LP) and Atiku Abubakar of the Peoples Democratic Party (PDP), among others.
Commenting on the cases being debated at the Presidential Election Petition Tribunal, Tinubu said those who were aggrieved by the outcome of the February 25th election that brought him to power can push further with their redress seeking.
He said: "In this vein, may I offer a few comments regarding the election that brought us to this juncture. It was a hard-fought contest. And it was also fairly won. Since the advent of the Fourth Republic, Nigeria has not held an election of better quality.
The outcome reflected the will of the people. However, my victory does not render me any more Nigerian than my opponents. Nor does it render them any less patriotic.
They shall forever be my fellow compatriots. And I will treat them as such. They represent important constituencies and concerns that wisdom dare not ignore."
Tinubu noted that since the former candidates have taken their concerns to court, he is fully in support of their move since as this according to him is the essence of the rule of law.
"Seeking legal redress is their right and I fully defend their exercise of this right. This is the essence of the rule of law," he said.
3 – Principles That Will Guid His Administration
In the lengthy speech, Tinubu also unveiled certain principles that will guide his administration, which according to him are simple.
He said:
1. Nigeria will be impartially governed according to the constitution and the rule of law.
2. We shall defend the nation from terror and all forms of criminality that threaten the peace and stability of our country and our subregion.
3. We shall remodel our economy to bring about growth and development through job creation, food security and an end of extreme poverty.
4. In our administration, Women and youth will feature prominently.
5. Our government will continue to take proactive steps such as championing a credit culture to discourage corruption while strengthening the effectiveness and efficiency of the various anti-corruption agencies.
4 – Promises To Nigerians
Like his predecessor when he was first elected into office in 2015, Tinubu also promised to deal with the challenges bedeveling Nigeria.
Major challenges Tinubu assured of addressing in his tenure includes the issue of security; job, monetary policy, agriculture, fuel subsidy, foreign policy, infrastructure, boosting the economy through budgetary reform, industrial policy.
The Nigerian leader also assured that electricity will become more accessible and affordable to businesses and homes alike.
"I have a message for our investors, local and foreign: our government shall review all their complaints about multiple taxation and various anti-investment inhibitions.
"We shall ensure that investors and foreign businesses repatriate their hard-earned dividends and profits home", Tinubu noted.
5 – President For All
The elated newly sworn in leader assured Nigerians that he will be president for all.
Tinubu who had repeatedly assured Nigerians of a renewed hope, said the mission of his administration is to improve the peoples' way of life in "a manner that nurtures our humanity, encourages compassion toward one another, and duly rewards our collective effort to resolve the social ills that seek to divide us.
"Our constitution and laws give us a nation on paper. We must work harder at bringing these noble documents to life by strengthening the bonds of economic collaboration, social cohesion, and cultural understanding. Let us develop a shared sense of fairness and equity."
He added: "The South must not only seek good for itself but must understand that its interests are served when good comes to the North. The North must see the South likewise.
"Whether from the winding creeks of the Niger Delta, the vastness of the northern savannah, the boardrooms of Lagos, the bustling capital of Abuja, or the busy markets of Onitsha, you are all my people. As your president, I shall serve with prejudice toward none but compassion and amity towards all."
Concluding his speech, Tinubu dedicated today being May 29, 2023, to the people of Nigeria, saying the country, today is reaffirming its rightful place among the world's great democracies.