Tinubu, 2023 Election, Economy, Others – 11 Key Highlights Of Buhari's Final Address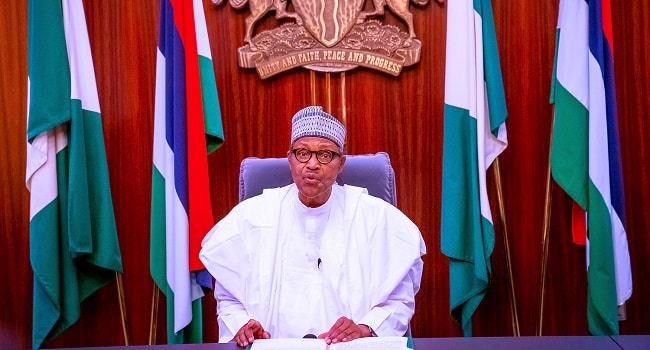 President Muhammadu Buhari, in his final address to Nigerians, appreciated those who prayed for him during his illness in his first term.
Naija News reports that the outgoing president, in his farewell address, touched on eleven crucial subjects.
Buhari spoke about the economy, incoming president Bola Ahmed Tinubu, insecurity, and many others.
See below eleven key highlights of Buhari's speech.
Gratitude
The president expressed gratitude to Nigerians as his tenure ends tomorrow.
"I address you today, in my last assignment as a democratically elected President of our great and well-endowed nation, with a deep sense of gratitude to God, a great deal of appreciation to the Nigerian people and a modest sense of fulfilment.
"Today we mark and celebrate another peaceful transition of power from one elected government to another in our steady march to improve and sustain Nigeria's democracy," he said.
2023 Election
According to the outgoing President, the 2023 election was Nigeria's most keenly contested Presidential polls.
He said: "This year we witnessed the most keenly contested Presidential Elections since the first Republic and this demonstrates that our democracy is getting better and more entrenched with each election.
"We must as a nation improve and sustain gains we make in the electoral process, on an incremental basis for Nigeria to take its rightful place among Nations.
"Our democracy provides for, allows and encourages seeking redress for perceived injustices, enabling some candidates and political parties that did not agree with the results to go to court."
Presidential Election Petition Tribunal
He commended opposition presidential candidates for approaching the court after the election. The president also urged everyone to accept the decision of the court on the election.
Buhari said: "Irrespective of the outcome of the various cases, I urge all parties involved to accept the decision of our courts and join hands to build a better Nigeria.
"I salute the doggedness and resilience of all the Presidential Candidates and their political parties for believing in our judicial system by taking their grievances with the election results to court."
Unity
"In the course of the campaigns, we had argued and disagreed on how to make Nigeria better but we never disagreed or had any doubts that Nigeria has to be better.
"As your President, I call on all of us to bring to bear the strength of our individualism, the power of our unity, the convictions of our beliefs to make Nigeria work better and together with one spirit and one purpose," he said.
Tinubu
On President-elect, Buhari stated that God has crowned the effort of Bola Tinubu, expressing confidence in his competence to lead Nigeria.
He said: "To my brother, friend and fellow worker in the political terrain for the past ten years – Asiwaju Bola Ahmed Tinubu -, I congratulate you on the realisation of your dream, which was propelled by a burning passion to put Nigeria amongst the leading nations of the world.
"You have indeed worked for this day and God has crowned your efforts. I have no doubt that your passion for excellence, reliance on competence, fairness in relationships, commitment to equity, loyalty to the country and desire for Nigeria to be globally relevant would come through for you, under God's guidance, as you lead our country to levels higher that I am leaving.
"You are the best candidate among all the contestants and Nigerians have chosen well."
Eight Years As President
He said: "The last eight years have been an exciting experience in my desire and commitment to see a Nigeria in which public goods and services are available, and accessible within a united, peaceful and secure nation.
"Fellow Nigerians, on the strength of your overwhelming support for me and my political party, I started this journey with a great deal of promise and expectation from you. I never intended to be just politically correct but to do the correct things that will make meaningful impact on the lives of the common Nigerian.
"This high expectation was not misplaced because, like the ordinary Nigerian, I had grown tired of watching the country progressively moving away from the path of correctness.
"To ensure that our democracy remains resilient and our elected representatives remain accountable to the people, I am leaving behind an electoral process which guarantees that votes count, results are credible, elections are fair and transparent and the influence of money in politics reduced to the barest minimum. And Nigerians can elect leaders of their choice.
"We are already seeing the outcome of this process as it provided an even playing field where persons without any political God-Father or access to money defeated other well-resourced candidates."
Economy
The president boasted that his administration has revamped the Nigeria economy.
"The Nigerian economy has become more resilient due to the various strategies put in place to ensure that our economy remained afloat during cases of global economic downturns.
"You would all recall the supply chain disruptions and economic downturn that the world witnessed between 2020 and 2022 as a result of the COVID-19 pandemic. The deftness of our response to the pandemic still remains a global best practice.
"Furthermore, we increased the ability of the poor and rural Nigerians to earn a living, provided more food for millions in our villages and gave our women opportunities to earn a living.
"Young men and women in urban centres were also supported to put their skills into productive use. Our administration also provided an enabling environment for the private sector to engage in businesses for which their return on investments is guaranteed.
"The private sector proved a strong partner in our drive to build a resilient and sustainable economy as evidenced by the growing number of turn-key projects in various sectors of the economy.
"In the course of revamping the economy, we made some difficult choices, most of which yielded the desired results. Some of the measures led to temporary pain and suffering for which I sincerely apologised to my fellow countrymen, but the measures were taken for the over-all good of the country.
"Mindful of the need to ensure adequate infrastructure to drive economic growth, we completed age-long projects and processes notably amongst which are the Petroleum Industry Act, completion of some power projects, completion of the second Niger bridge and various important roads linking cities and states," he said.
Insecurity
He expressed sadness over those still in captivity of terrorists. The president stated that security agents are still working to rescue them.
Buhari said: "Our battle to ensure that all Nigerians live in a safe and secure environment has achieved considerable results. As I complete my term in office, we have been able to reduce the incidences of banditry, terrorism, armed robbery and other criminal activities considerably.
"To sustain the gains made so far, I call on all Nigerians to be more vigilant and support the security agencies by ensuring that our values defined by being your brothers' keeper govern our actions.
"Up-till now, I still grieve for our children still in captivity, mourn with parents, friends and relatives of all those that lost loved ones in the days of the senseless brigandage and carnage. For all those under unlawful captivity our Security Agencies are working round the clock to secure their release unharmed."
Corruption
"Fellow Nigerians, you know how dear the desire in my heart is, to rid the country of corrupt practices that had consistently diminished our efforts to be a great country.
"I did pursue this commitment relentlessly, in spite of the expected push back. I am happy that considerable progress had been made in repatriating huge sums of money back to the country and also taken over properties illegally acquired from our common wealth.
"To improve service delivery, we began the implementation of a number of reforms aimed at producing an Efficient, Productive, Incorruptible and Citizen-oriented (EPIC) Federal Civil Service and the results are beginning to show."
International Scene/NASS
"On the international scene, Nigeria's influence continues to grow as exemplified by notable Nigerians occupying headship and leadership positions in renowned global bodies.
"Our democracy is built on and continues to thrive on the principles of separation of powers. The leadership and members of the National Assembly deserve my appreciation for their patriotism which did not detract from their roles as a check to the executive arm."
Thanksgiving
He expressed appreciation to a good number of Nigerians who provided their support and encouragement to help him navigate the "journey in moving Nigeria forward.
"I cannot and will not forget the millions who prayed for me during my illness in my first term of office. I am constantly praying for you and for Nigeria to thrive in peace.
"As I retire home to Daura, Katsina State, I feel fulfilled that we have started the Nigeria Re-Birth by taking the initial critical steps and I am convinced the in-coming administration will quicken the pace of this walk to see a Nigeria that fulfils its destiny."