Reactions As Osinbajo, Wife Say Goodbye To Aso Rock
Dolapo Osinbajo, the wife of Nigerian Vice President, Yemi Osinbajo, has sparked mixed reactions from Nigerians as she and her husband bid farewell to the Presidential Villa in Abuja.
Naija News reports that for the past eight years, Dolapo and her husband have made the Aso Rock their home, and barely 24 hours before the inauguration ceremony, she took to her Instagram page to share an emotional photo.
The photo captured the moment the couple turned their backs to the camera as they walk out of the villa with Osinbajo's hand on his wife's shoulders.
Dolapo, who expressed appreciation to God for the eight years spent in the Aso Rock, wrote: "Thanking God for 8 years."
Many Nigerians including Ibukun Awosika, and Nollywood actress, Ajoke Silva, stormed the comment section with different reactions: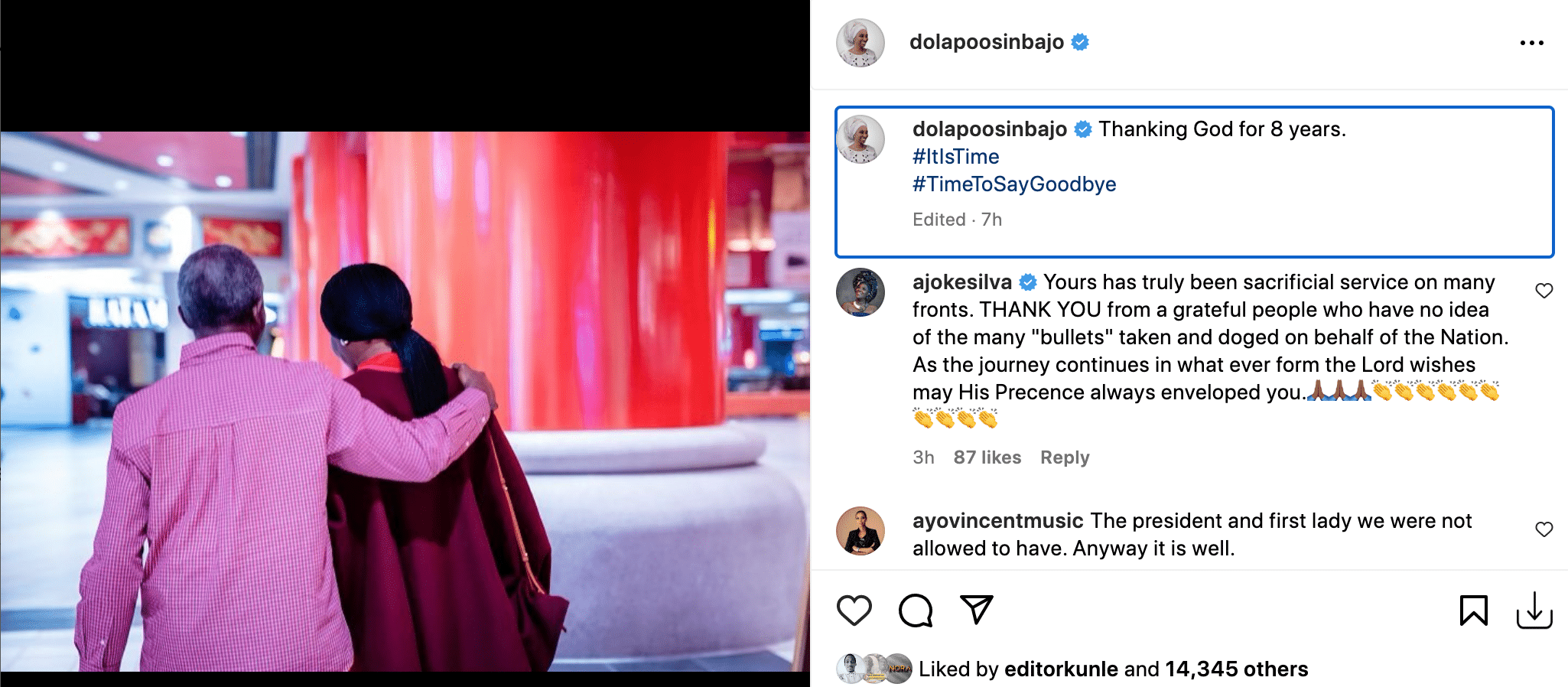 @jokesilva wrote: "Yours has truly been sacrificial service on many fronts. THANK YOU from a grateful people who have no idea of the many "bullets" taken and dodged on behalf of the Nation. As the journey continues in whatever form the Lord wishes may His Presence always envelop you"
@ayovincintmusic wrote: "The president and first lady we were not allowed to have. Anyway it is well"
@Ibukunawosika wrote: "Thank you for your sacrifices in your service to our country. God bless you both"
@gaisebaba wrote: "God bless you our very own Pastor Dolly!!! Thank you for showing us what stately elegance is like"
@suwakeh wrote: "While I personally like you and your brilliant husband, you have been accomplices to the worst regime in the history of Nigeria by all indices imaginable! Corruption, poverty, insecurity, unemployment, election rigging and so on have all gone from bad to WORST under the current administration. What is most annoying is that you both sat back and said nothing to the charade of a presidential election that you ought to know was a shouting sham. How can suffering Nigerians vote for a government that has striped them of decency, humanity, and honor? God is watching all of us"
@foreverfc wrote: "An amazing eight years it was. Thank God for his faithfulness"
@topeatiba wrote: "His Excellency our Vice President! Thank you for your patriotic service in the past 8 years. Greater vistas for global development lie ahead. Godspeed and God bless you and yours"
@yinka_ogundimu wrote: "We remain proud of you both. You have been exceptional and worthy of emulation. As the journey continues, Nigeria will remember your selfless service for good. Yours is etched in gold prints"