Buhari Told Us That He Knows People Call Him 'Baba Go Slow' – Lai Mohammed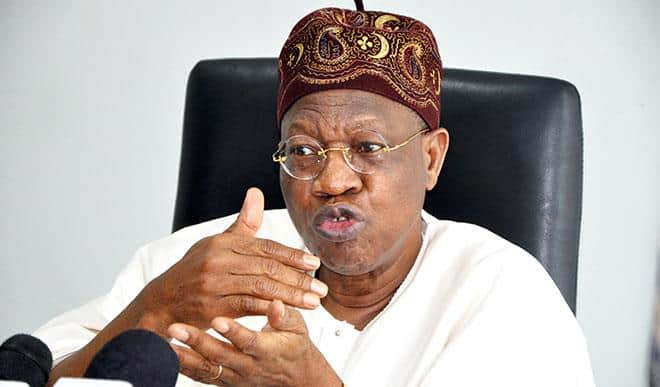 Outgoing Minister of Information and Culture, Lai Mohammed has said that President Muhammadu Buhari is aware that some Nigerians refer to him as  "Baba Go Slow".
The minister noted that the president erroneously earned the name because he is tolerant and a democrat who gives his Ministers a free hand to discharge their duties without undue interference".
Speaking during a send-forth party organised in his honour by the Board of the National Broadcasting Commission (NBC) on Sunday, Mohammed lamented that Buhari's government is always in the bad books of everybody.
He praised Buhari for being tolerant despite suffering insults from individuals, radio, and television stations.
The minister said: "We are always in the bad books of everybody.
"In the bad book of governments because they think we are too soft and in the bad books of naysayers because they say we are too strict.
A station (Tv or Radio) will abuse the government for a whole year, nobody will raise a finger. But if you try to impose a fine or shut the station down the whole human rights family will now say, fire Lai Mohammed.
""I must give credit to Mr President. I have never seen a President as tolerant as President Muhammadu Buhari.
"He has never said that the Minister of Information and Culture should go and close this station even when they are abusing him.
"One day, I was surprised in the cabinet when the President said, 'I know they call me Baba Go Slow"