APC Chieftain Warns Tinubu Over Kwankwaso's Alleged Defection Plans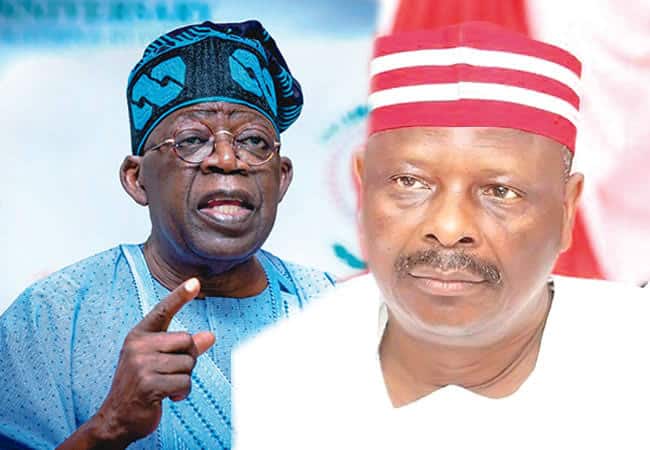 A chieftain of the All Progressives Congress in Kano, Sabo Inuwa, has said the alleged move by the presidential candidate of New Nigeria People's Party (NNPP), Rabi'u Musa Kwankwaso, to join APC may plunge the ruling party into crisis.
Naija News reports that President-elect Asiwaju Bola Ahmed Tinubu had met with Kwankwaso, a former Kano State Governor, in France.
Details of the meeting from sources revealed that Kwankwaso is plotting a return to the APC to play an active role in Tinubu's administration.
Speaking in Kano on Thursday during a chat with journalists, Inuwa said the APC would have to be cautious in admitting Kwankwaso.
He warned that if the situation is not well managed, "potential crises may engulf the APC, particularly in Kano and other states up country, where it is strongest, in the event of missteps, that can be costly and destabilising to a new Asiwaju government."
He said, "This (alleged plan by Kwankwaso to join the APC) is presently in the realm of assumptions; however, when it turns out to be true, it should be viewed as a positive development, given that our 1999 Constitution allows for freedom of association and choice.
"However, the issue needs wide evaluation and consultations. Whatever offer the NNPP has in wanting to join the APC, caution is the word here, and it should be gauged against actual needs of the APC, particularly at the National Assembly where it has a clear majority in both the Senate, 59 and 168, in the lower chamber.
"As a grassroots mobiliser, my observations are hinged on potential crises that may engulf the APC, particularly in Kano."
On electoral offenders, Inuwa called for what he described as "stiffer prison terms for those who smuggled unstamped ballots to the polling units on election day and those found guilty of inciting violence during the election to serve as a deterrent to others."
"Kano is a volatile place, and examples ought to be set on electoral offenders. Twenty-five years of our democracy is a huge investment that must not be allowed to be frittered away by irresponsible chaps parading themselves as leaders," he added.