Jonathan, Buhari, Tinubu, Other High-Profile Politicians In Alleged Certificate Scandal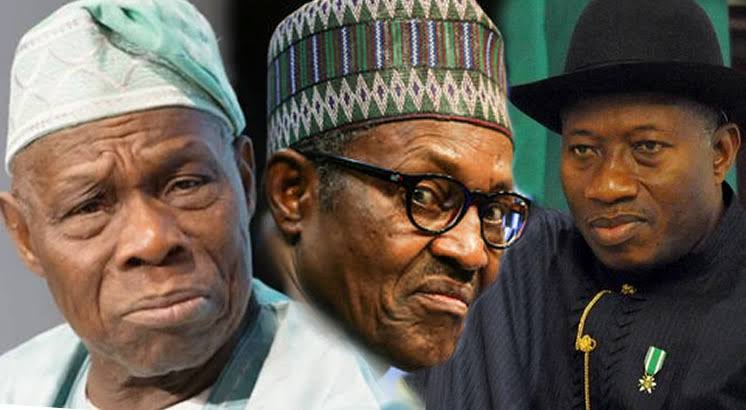 Arguments on certificate forgery have become a never-ending issue in Nigerian politics year-in-year-out, with some being true and others mere speculations at the end of investigations, Naija News reports.
The likes of incumbent Nigerian leader, President Muhammadu Buhari, former President Goodluck Ebele Jonathan and many high-profile politicians at some time have all been enmeshed in alleged forgery or missing certificate saga.
In the democratic era particularly, many persons in elective and appointive positions have had to defend themselves in court over alleged certificate scandals.
As usual, not all allegations were proven to be true. Some cases were eventually dismissed due to a lack of evidence. A few others were rightly found guilty of these allegations.
The trend of certificate forgery also repeated itself during and after the just concluded 2023 general elections, Naija News reports.
Goodluck Jonathan
Years ago, former President Olusegun Obasanjo, accused then-President Goodluck Jonathan of forging his PhD certificate.
It was alleged that Jonathan earned a BSc in Zoology with second-class honours, MSc in Hydrobiology and Fisheries Biology, and PhD in Zoology, all from the University of Port Harcourt, Rivers State.
The accusation from Obasanjo caused an uproar and rattled the leadership of the then-ruling Peoples Democratic Party (PDP).
However, UNIPORT dismissed the insinuation as having "neither legs nor grounds to stand on."
The university would later refuse to comply with a request for Jonathan's academic records through the Freedom of Information (FoI) Act by a civil society organisation, the Institute of Human Rights and Humanitarian Law.
President Muhammadu Buhari
In 2015, President Muhammadu Buhari was also enmeshed in an alleged certificate scandal after he emerged as the presidential flag bearer of the All Progressives Congress (APC).
The then-ruling Peoples Democratic Party (PDP) raised an issue over the non-availability of Buhari's secondary school certificate.
Despite every move by the PDP, Buhari went on to win the 2015 presidential election.
Again, in 2018, the PDP and other political parties raised their voices when Buhari showed interest in getting reelected and didn't include his academic credentials in the documents he submitted to INEC for the 2019 presidential election.
Buhari faced attacks due to his inability to present his West African Secondary School Certificate, leading to some Nigerians accusing him of not having a secondary education.
The controversy died down only when the West African Examination Council, WAEC, issued an "attestation certificate" to the president, confirming that Buhari had indeed obtained a secondary school certificate from the examination body in 1961.
 Asiwaju Bola Ahmed Tinubu
The former Governor of Lagos State made headlines many months ago for not presenting his academic certificates to the Independent National Electoral Commission (INEC) before the 2023 presidential election, Naija News recalls.
Tinubu omitted information about his primary and secondary education in the INEC form; he, however, stated that he attended Chicago State University.
In an affidavit supporting his nomination form for the office of President, the APC candidate noted that his properties and certificates were destroyed and looted when he was on self-exile from October 1994 to October 1998.
Despite the brouhaha, Tinubu won the 2023 presidential election.
Salisu Buhari
Salisu Buhari was the Speaker of the House of Representatives in Nigeria from 1999 to 2000.
He became the poster boy of certificate scandals in Nigeria in 1999 when, shortly after his election, he admitted that he had falsified his age and educational qualifications.
He claimed to have a bachelor's degree from the University of Toronto, when actually what he obtained was a diploma.
Buhari resigned from his position as Speaker following the controversy.
He was also kicked out of Ahmadu Bello University, Zaria, after faking credentials to earn admission into the institution. Thus, he had no opportunity to participate in the compulsory National Youth Service Corps (NYSC).
Salisu would later publicly admit guilt over the forgery allegations and ask Nigerians for forgiveness and another opportunity to serve the country again.
Senator Ademola Adeleke
The incumbent Governor of Osun State was accused and charged before the Osogbo High Court by two members of his party, Rasheed Olabayo and Oluwaseun Idowu, for allegedly falsifying his West African Senior School Certificate Examination results and secondary school testimonial.
Naija News reports that Adeleke succeeded Gboyega Oyetola in office following the latter's defeat at the state governorship poll.
The plaintiffs had sought Adeleke's disqualification from the September 22, 2019, governorship election for allegedly submitting fake certificates to get the PDP ticket.
But Justice David Oladimeji of the Osogbo High Court cleared Adeleke to contest the election.
A new lawsuit was filed by Awoosiyan Olalekan, Ojejade Thomas, and Awodire Sina before the Federal High Court, Osogbo, against Adeleke, the PDP, and INEC.
Subsequently, the Court of Appeal cleared Adeleke, saying it was satisfied that Senator Adeleke possessed the requisite educational qualifications to contest the election.
Biobarakuma Degi-Eremienyo
Biobarakuma Degi-Eremienyo was the running mate of David Lyon, who won Bayelsa State's governorship election in November 2019.
However, the Supreme Court sacked Lyon less than 24 hours before his inauguration as governor of Bayelsa State.
It could be recalled that a panel of justices led by Mary Odili had asked INEC to withdraw the certificate of return issued to Lyon and reissue another to the candidate with the second-highest number of votes.
The apex court's decision followed an affirmation of a Federal High Court judgement disqualifying Biobarakuma Degi-Eremienyo, Lyon's running mate, for submitting forged credentials to INEC.
The court ruled that the action of Degi-Eremienyo affected Lyon because both men had run on a joint ticket.
Kemi Adeosun
Adelson was a former Minister of Finance. She resigned her position in office after she was alleged to have forged her National Youth Service Corps (NYSC) exemption certificate.
Adeosun, in her resignation letter, claimed she wasn't aware. In July 2022, a Federal High Court in Abuja cleared her of any wrongdoing in the NYSC certificate charges.
Christian Abah
The tenure of Christian Abah as a member of the House of Representatives representing Ado/Okpokwu/Ogbadigbo Federal Constituency in Benue State was cut short by the Supreme Court in March 2017.
The action of the court followed an earlier judgement by a federal high court in Abuja in 2016, which ruled that he submitted a forged academic qualification certificate to INEC.
The Supreme Court affirmed that Abah had forged the Ordinary National Diploma (OND) certificate purportedly issued in 1985 by the Federal Polytechnic, Mubi, Adamawa State.
The court, therefore, ordered INEC to issue a fresh certificate of return to Hassan Saleh, who was Abah's first runner-up in the PDP primary held in 2014.
Bello Masari
In 2015, Governor Bello Masari was accused of forging his secondary school certificate. The case was eventually dismissed by the Supreme Court due to lack of evidence.
Despite many oppositions, he went on to serve as the state's leader.
James Ibori
James Ibori served as the governor of Delta State from 1999 to 2007. In 2007, allegations arose that he had forged his bachelor's degree in Economics and his master's degree in Business Administration from the University of Benin. These allegations were investigated. Ibori was convicted in the United Kingdom on corruption charges in 2012, though the certificate forgery allegations were not the primary basis of his conviction.
Dimeji Bankole
Dimeji Bankole was the Speaker of the House of Representatives in Nigeria from 2007 to 2011. In 2010, he was accused of not completing his National Youth Service Corps (NYSC) and was therefore rumoured to have submitted fake discharge documents.
He provided his NYSC certificate, thereby ending the rumour.
Peter Mbah
Barely a few days before his inauguration, the Enugu State Governor-elect is already been accused of certificate surgery.
Naija News understands that the insinuation that Mbah's NYSC discharge certificate was forged has snowballed into a national issue.
The controversy surrounding the discharge certificate blew open in February 2023, when NYSC, in response to an inquiry by a non-governmental organisation, released a letter stating that it did not issue the certificate submitted to the Independent National Electoral Commission (INEC).
In April 2023, another letter repudiating the certificate was again issued following another inquiry by an Aba-based law firm, Silver & Co. Associates.
As if that was not enough, the Director General of the NYSC also said during an Arise TV interview that Mbah's certificate was not issued by the agency.
Mbah has filed an N20 billion case against the NYSC, seeking damages for the injuries caused to his reputation by the controversies surrounding the discharge certificate.
The Governor-elect and his party, the PDP, are insisting that the NYSC was telling lies.