10th NASS: Akpabio's Kinsmen Issue Stern Warning To Elements Pressuring APC Over Zoning Arrangement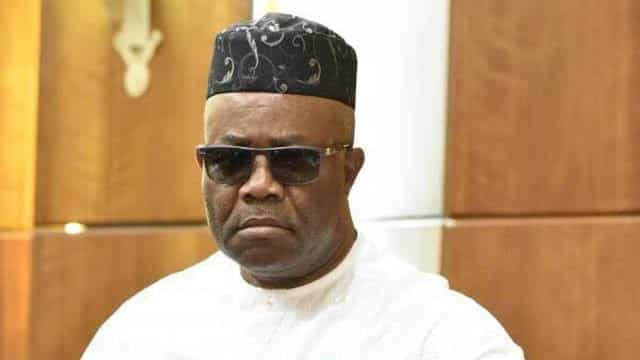 Some kinsmen of Senator Godswill Akpabio, under the aegis of Ntipe Ibibio Unity Mission have issued a stern warning to elements pressuring the ruling All Progressive Congress (APC) to review its zoning arrangement.
According to the group, any scheming and pressure on the party to throw out Akpabio will be counterproductive.
Naija News gathered from Vanguard that the convener of Ntipe Ibibio Unity Mission, Amb Okon Mkpafit, said the APC should not bow to pressure of reviewing the zoning arrangement.
It would be recalled that the APC's National Working Committee, NWC has zoned the Senate President to South-South, Sen. Godswill Akpabio, Deputy Senate President to North-West, Sen. Barau Jibrin while it zoned the Speaker to the North-West, Hon. Abass Tajudeen and the Deputy Speaker to South-East, Hon. Ben Kalu.
However, the zoning arrangements has not gone down well with so many chieftains of the party and speculations are that there might be a review in the initial zoning arrangements due to agitations.
But Akpabio's kinsmen said "We have heard and seen how some persons are piling pressure on the APC leadership to drop Senator Akpabio, and we warn that if that happens it will affect the party negatively and that would be counterproductive, and therefore we counsel that the choice of the party be upheld.
"We also call all Nigerians to join hands with the in-coming President Bola Ahmed Tinubu to build our great nation and make it the 'Giant of Africa' indeed, the joy of the Black Nations and the citadel of greatness; and once again reclaim our enviable position among the comity of Nations.?"
He furthermore said Akpabio's kinsmen have been working to ensure that he emerges the Senate President in the 10th National Assembly, and they are calling on the chieftains and members of the All Progressives Congress, APC, including other contestants to support Akpabio.
He said: "We the kinsmen of Senator Godswill Akpabio under Ntipe Ibibio Unity Mission, unequivocally declare our unalloyed support of APC Zoning of the Senate President to South-South Geo-Political Zone, and throw our behind Senator Godswill Akpabio as the Senate President of the 5th Republic.
"APC Zoning of Senate President Position to South-South Geo–Political Zone, we can recall that the last time the Senate President position came from South-South was in 1979, which was the Second Republic, which saw the emergence of the Distinguished Senator Joseph Wayas.
"We plead with all the senators-elect to join hands to ensure South-South Senate Presidency is actualized, hence support Senator Godswill Akpabio for the position of Senate President."