Tinubu: Protesters Storm Presidential Election Tribunal, Seek Justice Over February 25th Election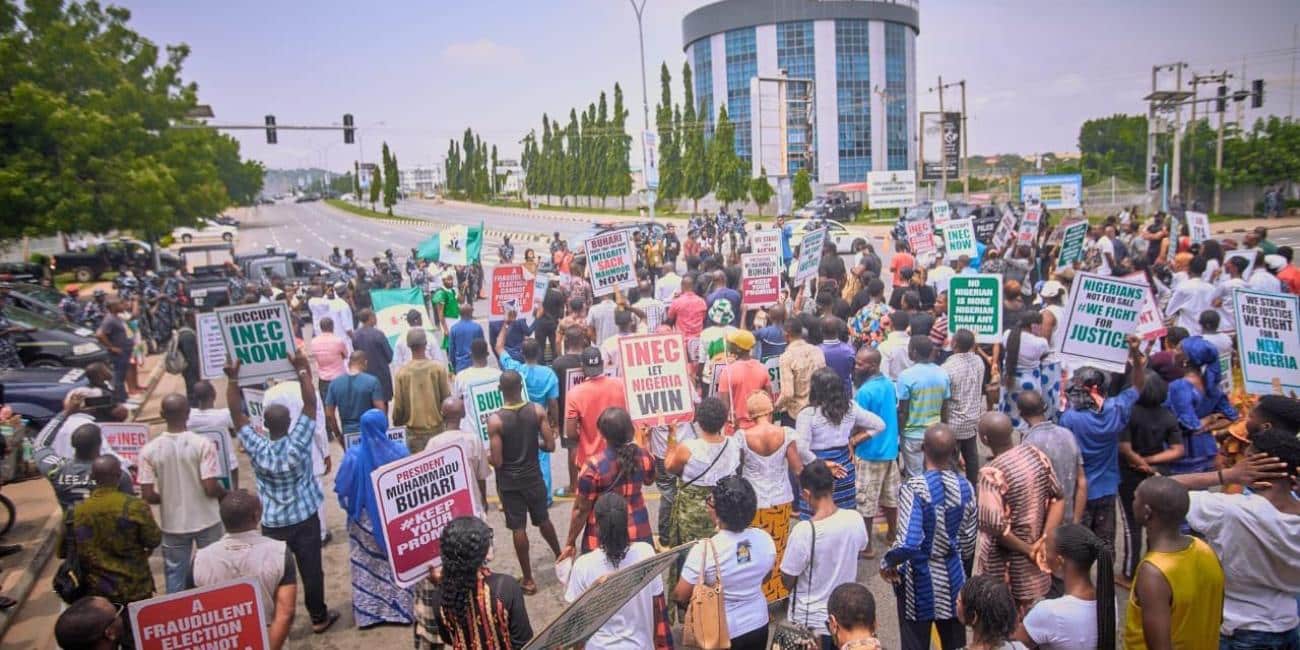 An unverified number of Nigerians on Monday stormed the premises of the Court of Appeal in Abuja, where the Presidential Election Petition Tribunal is being held to demand justice over their alleged stolen mandate during the just concluded February 25th elections.
A few months ago, the Independent National Electoral Commission (INEC) announced Asiwaju Bola Ahmed Tinubu as the winner of the February 25th presidential election on the platform of the All Progressives Congress (APC), Naija News reports.
Some political parties and their candidates, however, have since approached the court to express their disagreement with the poll results and as well seek to reclaim their allegedly stolen mandate.
Reports obtained by this news platform today revealed that hundreds of Nigerians, male and female, stormed the Court of Appeal on Monday morning with placards carrying different kinds of inscriptions as they demand justice and the 'return of their mandate stolen' during the February 25 presidential poll.
According to SaharaReporters, some of the inscriptions on their placards are: "INEC let Nigeria win,' 'Nigerians not for sale. #We fight for justice," 'A fraudulent election cannot produce a credible leader,' 'President Muhammadu Buhari. #Keep Your promise,' "#Occupy INEC now,' 'We stand for justice. We fight for a New Nigeria," and "Buhari Mr Integrity Sack Mahmood Now."
The protesters who were said to be under the platform of #FreeNigeriaMovement reportedly chanted slogans advocating for justice and transparency in the legal process at the tribunal.
Addressing protesters, the convener of the movement, Dr Moses Paul, claimed that the group does not support any political party but stands in solidarity with the people of Nigeria in defence of justice and good governance.
"We are standing here and decisions are being made right now inside the Appeal Court, we are demanding for the right thing to be done.
"Any judge that decides to collect money or decides not to follow the constitution of Nigeria, any judge that decides to do the wrong thing so that Nigeria can go down, e no go better for una!
"The entire Africa and the world is waiting for us to show dignity, honestly, direction and leadership because until Nigeria takes its seat in the comity of nations, Africa is going nowhere, we cannot watch our nation degrade to nothing when the world is watching and waiting for us," Paul reportedly said.