Nigeria's 1999 Constitution Represents An Experiment In Audacious Lie – Akeredolu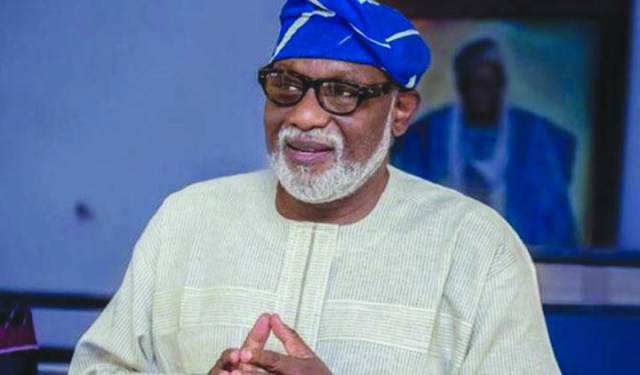 Ondo State Governor, Rotimi Akeredolu has described the 1999 constitution of Nigeria as one which does not represent the interest of the citizens.
The Governor lamented that the constitution is adding to the mystery of Nigerians because it "sustains the privileges enjoyed by a parasitic few at the detriment of the majority."
Speaking yesterday during the 59th Founders' Day Anniversary Lecture, Award, and Endowment of the Adeyemi Federal University of Education in Ondo, Akeredolu who was represented by his Special Adviser on Union Matters and Special Duties, Mr Dare Aragbaiye added that states in the federation have been reduced to pathetic beggars as a result of the skewed nature of the 1999 constitution.
He, therefore, called for its replacement with the 1963 constitution because according to him, the 1999 constitution is an experiment in audacious mendacity.
He said: "A defective law cannot engender peace and progress. It is, more often than not, the source of the seemingly intractable crises.
"There can be no development in a place where the law and its application are skewed, heavily, against the majority of the people. When the law becomes an instrument of repression, society is imperiled.
"A codification which alienates the people from its intendment is not only repressive but also fraudulent.
"There can be no meaningful achievement from the existence of a set of regulations whose purpose is to sustain the privileges enjoyed by a parasitic few at the detriment of the majority."
He added that "The subversion of the people's will cannot engender progress in any society if the essence of development is the amelioration of the challenges faced by them.
"Any law which imposes the whims and caprices of a select but partisan few on the majority of the people cannot be used to advance the cause of the society.
"If there is any document whose existence represents an experiment in audacious mendacity, it is this so-called Constitution of the people of the Federal Republic of Nigeria.
"The Constitution tells manifest lies against itself. It purports to represent the wishes of the Nigerian people but nothing can be farther from this obvious lie," the governor said.
Akeredolu further called on the incoming administration of Bola Tinubu to be bold in confronting the challenges facing the country.
"The in-coming administration has its job clearly defined. It is inheriting not only a heavy backlog of disaffection and complaints from the citizenry from all parts of the country; it has sold its campaign on the promise of a Renewed Hope," he said.