I Have Forgiven Those Who Have Offended Me And I Seek Forgiveness Too – Okowa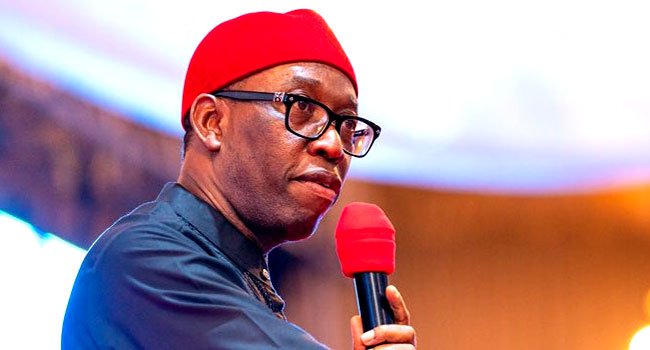 Governor Ifeanyi Okowa of Delta State has asked for forgiveness from those he might have offended while leading the state in the last eight years.
Okowa, whose two-term tenure of eight years will end on May 29, stated that he has also forgiven those who have deliberately offended him, stressing that he is not holding grudges against anyone.
The governor said this on Sunday morning at a Valedictory Thanksgiving Service to mark the end of his administration at St Philips Anglican Church, Asaba, the state capital.
He said: "For those who in the course of duty, I have had cause to step on their toes, I say forgive me. It possibly was because we had to do our work. I don't think we did so deliberately.
"But, at some point in time, decisions had to be taken. Sometimes, those decisions are difficult but a man has to take the decision. I thank all of you for your cooperation. Please find a place in your hearts to forgive me.
"For those who hurt me deliberately or unknowingly, I promise you that I have forgiven all. We must move on as a people.
"We are one people, as Deltans, our destiny as a state is tied together. Therefore, we must continue to pray and work together to ensure that we make Delta State a much better place."
Speaking further, Okowa ascribed the peace and unity that prevailed in the state to God's mercy, saying he was leaving a more peaceful and united state to his successor.
He added: "One thing I must thank God greatly for is the fact that there is peace and unity in this state. That we have had peace in these last 8 years, is by the grace of God.
"But, the unity in the state is borne out of the fact that God did the arrangement by Himself that today, this state can rightfully say that we stand on a tripod.
"Every senatorial district has had its impact and has been able to occupy the office of governance in this state. God made it possible and for that reason, I believe that Delta will continue to grow."