Leaked Audio: 'Tinubu Has Abandoned Us' – Ganduje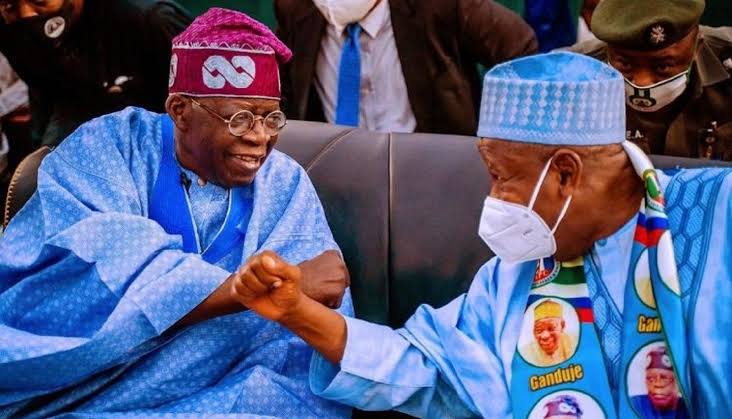 In Kano, leaders of the All Progressives Congress (APC) are voicing concerns over a private meeting between President-Elect Bola Tinubu and Rabiu Kwankwaso, the presidential candidate of the New Nigeria People's Party (NNPP).
Naija News had earlier reported that during their four-hour meeting in France, topics discussed included the potential of Kwankwaso joining the incoming cabinet.
This platform noted that Kano's APC leader, Abdulmajid Kwamanda in a statement said that Kwankwaso should not receive any appointment in the incoming administration, not even as a messenger.
"Should Tinubu ignore our outcry and appoint Kwankwaso, we are going to disrupt the entire APC in the north and withdraw our support for him," Kwamanda told reporters.
Leaked Phone Call
An alleged leaked phone call recording between Governor Abdullahi Ganduje and Ibrahim Masari, a former vice presidential candidate of the APC, added to the uproar, according to Daily Trust.
In the call, the governor was heard expressing his displeasure at the president-elect's meeting with Kwankwaso, claiming unfair treatment. Ganduje lamented, "Now he (Tinubu) is seeing Kwankwaso as an alternative to us?"
In the recording, Masari, a Tinubu ally, tried to soothe the governor, asking him to wait until he meets with Tinubu and advising him to remain calm.
Governor Ganduje left Kano for Abuja late Friday and is expected to meet with Masari over the weekend before meeting with President-Elect Tinubu.
At the time of filing this report, Ganduje is yet to react to the alleged audio conversation.