Buhari's Former Aide, Lauretta Onochie And NDDC MD Fight Dirty At Senate Over Corruption Allegations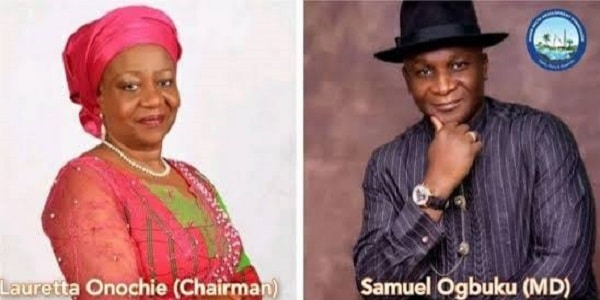 A former media aide to President Muhammadu Buhari and chairman of the Niger Delta Development Commission (NDDC), Lauretta Onochie has fought dirty with the the Managing Director of the Commission, Samuel Ogbuku.
The duo on Friday accused each other of being corrupt individuals.
The exchange occured during an investigative hearing by the Senate Committee on unauthorised spending of the 2021 and 2022 budget of the agency without National Assembly approval.
The Managing Director, who was represented by the Executive Director in charge of Finance and Administration, Charles Airhiavere, accused Onochie of over stepping by desperately seeking to be a signatory to NDDC's accounts.
He alleged that Onochie wrote a letter to the Accountant-General of the Federation pleading to be made a signatory to the agency's accounts.
Addressing the allegations against her, Onochie explained that the decision for her to be a signatory to the accounts was proposed by the board at one of its meetings and was never a personal decision.
She said the request for change of signatory was rejected because the Central Bank of Nigeria (CBN) directed the Managing Director to ensure that her confirmation is sought in every financial transaction.
"The CBN said I should be the confirming authority but they didn't come back to me. That is why they have been operating the way they like," Onochie said.
Onochie however accused the Managing Director and the entire management of running the commission in breach of financial regulations.
The former media aide claimed that the NDDC's management currently operates a total of 367 accounts against the dictates of the Treasury Single Accounts (TSA) policy of the Federal Government.
According to Onochie, all these accounts are in foreign exchange (FOREX).
The Managing Director denied the existence of 367 accounts in the agency but admitted that it operates only four.
Onochie also informed the Senate that since the board assumed office in January 2023, it has not enjoyed the cooperation of the management of NDDC.
This allegation was rejected by the Managing Director who said the main problem arose from what he called "trust deficit" between the board and the management.
The Senate Committee led by Senator Yusuf Yusuf (APC, Taraba Central) expressed shock at the disclosures made by the board and the management of the NDDC.
He directed Onochie and Ogbuku to appear before it on Monday to substantiate their allegations.