Leaked Audio: Tinubu Consulted Ganduje Before Meeting Kwankwaso – APC Chieftain Spills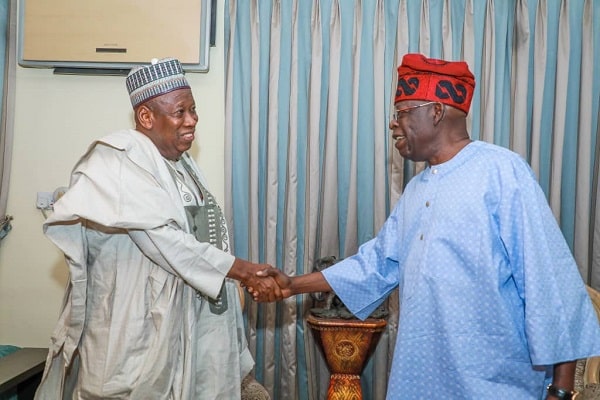 A chieftain of the All Progressives Congress (APC), Hon Abdulmumin Jibrin, has revealed that President-elect, Bola Tinubu, consulted Kano State Governor, Abdullahi Ganduje before accepting to meet with Senator Rabiu Musa Kwankwaso in France.
Naija News reported earlier that Tinubu and Kwankwaso met for four hours in France.
However, reports emerging after the meeting has caused controversies in the APC camp after Ganduje was heard in a leaked conversation lamenting how Tinubu had abandoned him and the party stakeholders to meet with a presidential candidate from the opposition party.
Recall that Kwankwaso was the New Nigeria Peoples Party (NNPP) flagbearer in the just concluded 2023 presidential election.
It was, however, reported that Tinubu met with Kwankwaso intending to bring him into his cabinet. Lamenting the development, Ganduje expressed reservation saying the President-elect was unfair to him to have decided to see Kwankwaso, his estranged benefactor, as an alternative.
In the leaked audio with former Vice-Presidential Placeholder of the APC, Ibrahim Masari, Governor Ganduje had said Tinubu ought to consult or invite him to the meeting with Kwankwaso.
Speaking to journalists on Saturday, a Rep-elect, Jibrin, said Ganduje consented to the meeting that President-elect held with Kwankwaso in France.
Jibrin, who was part of the meeting in France, said Ganduje told him earlier that Tinubu consulted him before the meeting.
He said: "Like every other Nigerian, I was very shocked when I listened to that audio, but I think the most important thing is that I want to confirm to you that Governor Ganduje was consulted.
"And he himself confirmed this to me, told me in clear words that the President-elect invited him and told him that he is planning a meeting with Kwankwaso and asked Ganduje if he had any objections to it, and Ganduje told me that he told the President-elect that he has no any objection."
"So it is extremely unfair for the president-elect to be portrayed in bad light before the public by Governor Ganduje who knows very well that the president consulted him before that meeting because he confirmed that to me clearly.
"It is very very unfair to the president-elect, and I do not believe that the Mr president will abandon anyone who supported him… but again, what is paramount is national unity, cohesion and development," Daily Trust quoted Jibrin as saying.