'How Buratai Reportedly Granted 75% Discount To Aisha Buhari's Family, Others To Buy Houses From Army Property Firm'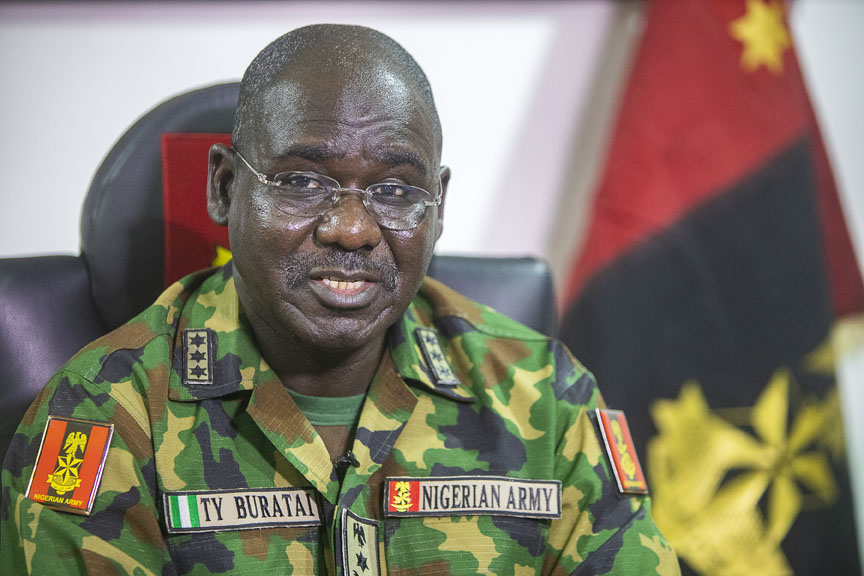 The ongoing court-martial trial of Major General U.M Mohammed in Abuja has unveiled a series of startling allegations regarding corruption within the Nigerian Army.
Mohammed, an ally of the ex-Chief of Army Staff, Lt. Gen. Tukur Buratai, testified that Buratai permitted the Nigerian Army Properties Limited (NAPL) to sell houses to politicians and Very Important Personalities (VIPs) at a highly discounted rate of 75 per cent.
According to sources familiar with the court-martial proceedings that spoke with SaharaReporters, Mohammed further revealed that the beneficiaries of these house sales were individuals connected to the First Lady, Aisha Buhari, who received the properties as gifts from Buratai.
Controversial Trial And Allegations
The trial of Major General Mohammed has been shrouded in secrecy, with limited access granted to journalists despite claims of an open trial.
The Nigerian Army had previously denied any secrecy surrounding the proceedings.
However, SaharaReporters, an online news platform, reported that Mohammed had been secretly detained since January 2022 after exposing his involvement in money laundering for Buratai.
During the trial, Major General Mohammed confessed to being instructed by Buratai to pay $730,000 to secure Saudi Arabia citizenship for the former Army chief, allegedly to evade accountability for the army's actions under his leadership.
Revelations of Misappropriation and Influence Peddling
In a surprising turn of events, Major General AA Adesope, a former Group Managing Director (GMD) of NAPL, testified as a witness for the Nigerian Army.
Adesope revealed that he spent only 41 days as GMD because he reported the misappropriation and allocation of houses to civilians who had received a 75 per cent discount.
However, Major General Mohammed defended himself during cross-examination, stating that the allocation of houses to civilians was carried out on the directive of Buratai.
Mohammed disclosed that Buratai instructed the issuance of house allocations to VVIPs and politicians at a discounted rate.
Major General Mohammed quoted Buratai as saying, "On March 19, Buratai directed one Lt. Col. Christy to make payment for the houses allocated to the VVIPs and politicians to Access Bank with account name FCCNAPL and account number 0769911478.
"When Adesope took over NAPL and found out about the allocation to the civilians and 75% discount, he quickly made a report to Lt. Gen. Buratai (Rtd), accusing me of misappropriation without reaching out to me for verification.
"Gen. Buratai now called me to find out how Adesope got to know about the allocation and discount, I told him it was captured in the sales records handed over to Adesope. Buratai became so annoyed and ordered his posting out as GMD, that was why Adesope spent only 41 days in NAPL."
Buratai's Alleged Connections To VIPs And Politicians
According to investigations, the VVIPs and politicians who received the discounted houses were allegedly family and friends of Aisha Buhari.
They reportedly acted as beneficiaries, receiving the properties on her behalf as gifts from Buratai.
Before his arrest and secret detention, Major General Mohammed held a senior position in NAPL, overseeing army properties across the country.
Sources that spoke with the platform indicated that Mohammed was targeted for punishment due to his involvement in illicit activities carried out under Buratai's orders during their time in the army.
Sources who spoke with the platform claimed that Mohammed told the special court that on the orders of Buratai, he also released funds for trips for the wives of the former Army chief and some military activities like the movement of people when Buhari opened the Nigerian Army University in Biu, Borno State.
It was learnt that Buratai also instructed Mohammed to pay huge sums of money to some Muslim clerics "praying for Buratai's administration" as Chief of Army Staff at the time.
One of the sources said, "For instance, the last one he gave evidence and this is in evidence in court that about $700,000 was used. He (Buratai) instructed him to process a Saudi Arabia residence permit for him.
"He was also told to release the money to fund the trips of his wives and also fund some military activities like the movement of people when Buhari opened some things in Biu – the Army University and some military activities. That was where he was directing that funds should be released.
"He also gave evidence of how several thousands of dollars he was ordered to release to some mallams (Islamic clerics) whom he said were praying for his administration. They were the ones that will censor any activities that he was going to undertake.
"For instance, the appointment of some persons or posting of some military officers; those whose names will be submitted to the mallams to determine in the spirit whether they would be loyal or not. So those things were funded in hundreds of thousands of dollars, he gave this in evidence.
"And then besides several international trips, he would ask the man to give out money. This involved several Generals, even some who were sitting as members of the panel. They also benefited from some of the foreign trips. They were paid hundreds of thousands in estacodes."
On why Mohammed didn't say no to certain things as the MD of NAPL, one of the sources said, "If only you know how the military operates; that would amount to insubordination.
"If your boss asks you to do something and then you say no, that is insubordination and that was the reason why he used NAPL to fund personal and official activities in the military."
Another source said, "In one, Mohammed told us how over N26 million was released to build piggery. What they were doing was directing him to release money. Mind you, they would call him while he was still serving as the MD of NAPL and a military officer.
"You know, in the military, orders are given orally and you do not disobey it. He (Buratai) would call him and ask him to release a certain amount of money. So that is how he was giving instructions and money was being released."
While the court-martial proceedings continue, Major General Mohammed's health has become a concern, with reports of him spending a week in the intensive care unit of the NAOWA clinic in Abuja.
The public's access to Mohammed has been restricted by the Army authorities.
Mohammed's retirement, which should have occurred two years ago, was reportedly delayed by the army authorities as a form of punishment.