Wike, Ortom, Ganduje, Other Outgoing Govs To Get Jumbo Pensions Despite Leaving Behind N3 Trillion Debt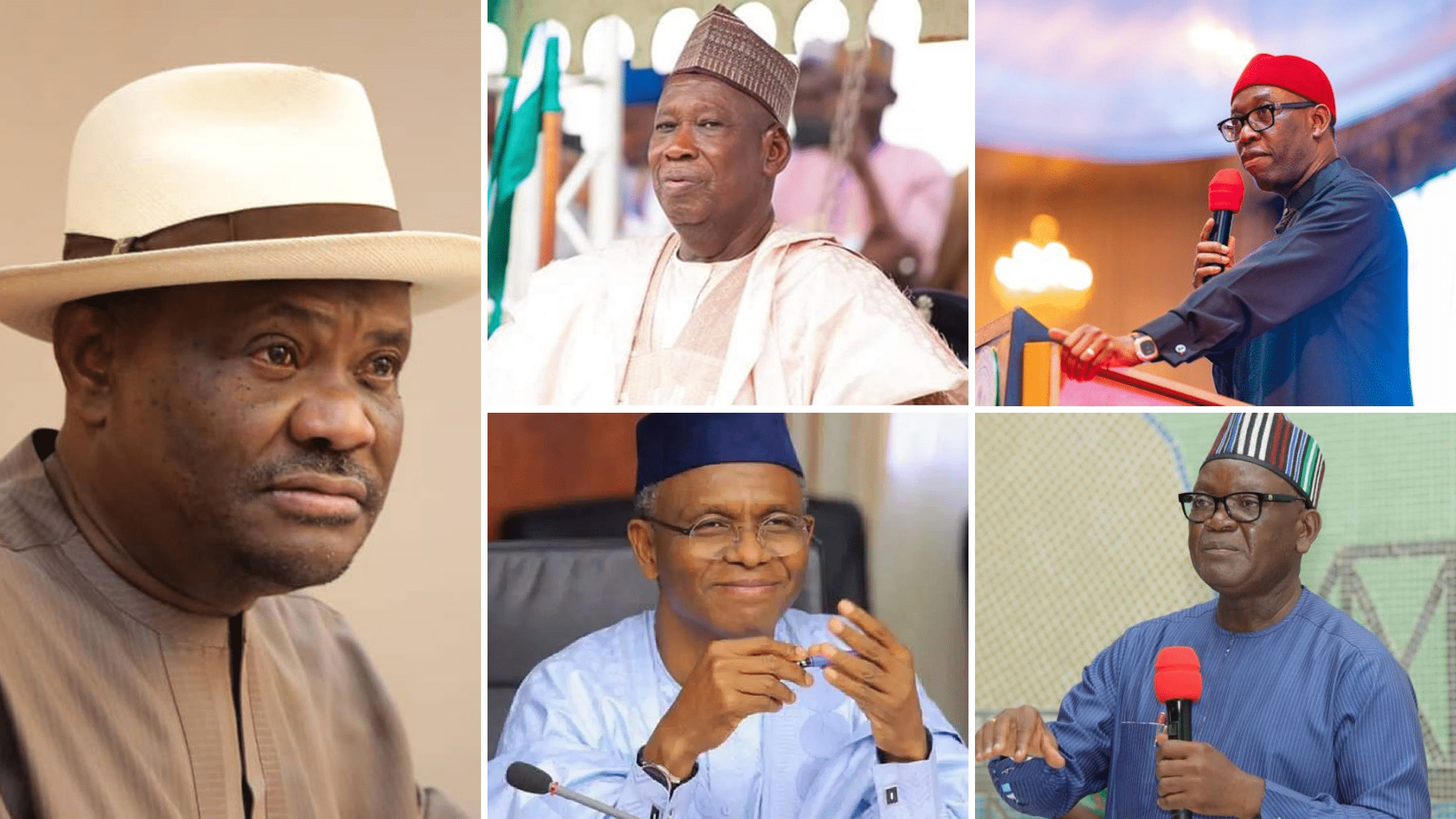 A report has revealed that outgoing governors, including Nyesom Wike (Rivers State), Ifeanyi Okowa (Delta State), Abdullahi Ganduje (Kano State), Udom Emmanuel (Akwa Ibom State), Badaru Abubakar (Jigawa State), Bello Matawalle (Zamfara State), Ben Ayade (Cross River State), Okezie Ikpeazu (Abia State), and David Umahi (Ebonyi State) among others would be vacating office on May 29 with a debt of 3.06 trillion.
This means their successors would battle to offset the enormous debt they incurred in their eight years of service, including unpaid salaries of civil servants and others.
Other outgoing governors that fall into this category are Ifeanyi Ugwuanyi (Enugu State), Samuel Ortom (Benue State), Darius Ishaku (Taraba State), Abubakar Bello (Niger State), Abubakar Bagudu (Kebbi State), Nasir El-Rufai Kaduna State), Simon Lalong (Plateau State), Aminu Masari (Katsina State) and Aminu Tambuwal (Sokoto State).
Though Zamfara State Governor, Matawalle lost his re-election bid for eight years in office, he also falls in this category.
He will also be entitled to generous monetary pensions, mansions to be built in locations of their choice, luxury vehicles and domestic as well as security aides, among others, based on laws passed by their respective state houses of assembly.
Naija News understands that the retiring state leaders, numbering 18, will vacate office into lives of luxury with generous pension benefits despite mounting debts and unpaid workers' salaries.
Data obtained from the Debt Management Office (DMO) showed that the debt figure of these states included N2.27tn domestic loans and $1.71bn foreign borrowing.
The foreign debt is about N787.51bn, using the exchange rate of the Central Bank of Nigeria, which was N460.53 per dollar as of May 14, 2023).
The debt figure was as of December 2022, the latest figure by the DMO. It was also observed that the 18 states account for 42.51 per cent of the N5.34tn total domestic debt and 38.34 per cent of the $4.46bn total foreign debt.
The PUNCH observed from the report that top domestic debtors include Delta (N304.25bn), Rivers (N225.51bn) and Akwa Ibom (N219.27bn), while top external debtors include Kaduna ($573.74m), Cross River ($209.53m) and Enugu ($120.86m)
Rivers State – Nyesom Wike
In Rivers State, Governor Wike and his deputy, Dr Ipalibo Banigo, will enjoy generous benefits after leaving office as provided in the Rivers State Pensions for Governor and Deputy Governor Law, 2012; this is despite N225.51 billion domestic debt and $87.13m foreign debt incurred under his administration.
Naija News understands that the law provides that three new vehicles should be purchased for former governors, and the cars are to be changed every four years. This is in addition to the payment of 100 per cent of their basic salaries, 300 per cent of their annual basic salary for furniture, free medical services and provision for entertainment. Their deputies also enjoy certain perks.
The administration of former governor Rotimi Amaechi enacted the pension law for former governors and their deputies in Rivers State.
It made other provisions such as two choice houses in any area of their choice in Rivers State and Abuja and three cars replaceable every three years for the governor. The law also provides that 20 per cent, 10 per cent and 10 per cent of the annual salary of the incumbent government should be earmarked for utility, accommodation maintenance and entertainment, respectively. Wike will be entitled to all these except if he decides otherwise.
However, Wike has been accused of owing teachers of staff schools of the state-owned tertiary institution for seven years.
Wike, who will be handing over to his party man, Sim Fubara, has been urged by a coalition of civil societies organisations in the state to offset the outstanding workers' pay before the inauguration of the incoming administration.
In Delta, with N304.25bn domestic debt and $58.77m foreign debt, Okowa is reportedly entitled to a furnished duplex in Delta State or any other state in the country; medical treatment for him and members of his immediate family; two vehicles, including a utility vehicle, every two years; two armed policemen and one Department of State Security officer; 15 days' annual vacation in any place of his choice and other benefits. The deputy governor is also entitled to similar perks.
The Delta State Governor and Deputy Governor Pension Rights and Other Benefits Law, 2005, was signed into law by former governor James Ibori, who ruled the state between 1999 and 2007.
The law was later amended in 2009 as the Delta State Governor and Deputy Governor Pension Rights and Other Benefits (Amendment) Law, 2009. The state law provides that ex-governors would be paid allowances and other benefits pegged at N50m yearly.
Such perks include one duplex in any city of their choice within Nigeria, one sport utility vehicle and a backup car replaceable every two years, an office with four aides, two security personnel and monthly salaries. Naija News understands each of the four domestic workers will earn N100,000 monthly.
Akwa Ibom, which had N219.27bn domestic debt and $44.85m foreign debt, reportedly spends an average of N267.78m yearly on ex-governors and their deputies and Governor Emmanuel and his deputy are expected to enjoy the same as the state's Pension Act, 2014 provides.
They are also entitled to replace official and utility vehicles every four years.
Kano State -Abdullahi Ganduje
DMO's report showed that Kano had N122.36bn and $100.67m foreign debt during the period under review.
However, Governor Ganduje and his deputy are entitled to 100 per cent of their basic salaries, a six-bedroom house and free medical treatment for themselves and members of their families upon handover on May 29, 2023.
The law guiding pension rights for former governors and deputy governors also states that they will get well-equipped offices.
Jigawa State – Badaru Abubakar
In Jigawa State, former Public Officers Pension and Other Benefits Law No. 15 of 2015' stipulates that a governor who successfully completes his term without impeachment will be entitled to a monthly pension equivalent to the current salary of the current governor, two brand new vehicles to be provided by the state government and to be replaced after every four year, six-bedroom fully furnished house, two personal assistants not below grade level 10, two drivers selected by the governor and to be paid by the state, a fully furnished office in any location of choice and fully paid medical treatment within Nigeria and abroad.
The deputy governor is also to get a monthly pension equivalent to the incumbent's salary, one assistant not below level eight, one brand new vehicle, a four-bedroom flat and an office in a location of his choice.
However, the incumbent Government led by Badaru would be leaving behind N43.95 billion in domestic debt and $26.99m in foreign debt.
Recall that Governor Matawalle lost his re-election bid; hence he will complete his four-year tenure on May 28, 2023, leaving N112.2bn domestic debt and $28.86m foreign debt.
The 'Grant of Pension to Governor or Deputy Governor (Amendment Law), 2006' made provisions for pension and other benefits to former governors. It provided a pension for life equivalent to the salary of the incumbent, two personal staff members, two vehicles replaceable every four years, two drivers, and free medical for former governors, their deputies and their immediate family members in Nigeria or abroad.
It stipulated N7m monthly for former governors and N2m to former deputy governors, but former governor Abdul-aziz Yari reviewed it to N10m and N5m monthly, respectively. However, the law was repealed by the state House of Assembly on November 26, 2019.
Also, findings revealed that the outgoing governor, Bello Matawalle, owes workers two months' salaries. Matawalle of the APC has been urged by the NLC and the TUC in the state to settle all outstanding salaries before handing over to Dauda Lawal of the PDP.
Despite having N90.6bn domestic debt and $36.56m foreign debt, Tambuwal is expected to inherit the Sokoto State Pension Law, which makes provision for N200m every four years for former governors, while his deputy is entitled to perks amounting to N180m, being monetisation for other entitlements, including domestic aides, residences and vehicles that can be renewed after every four years.
Section 2 (2) of the Sokoto State Grant of Pension (Governor and Deputy Governor) Law, 2013 states, "The total annual pension to be paid to the governor and deputy governor shall be at a rate equivalent to the annual total salary of the incumbent governor or deputy governor of the state, respectively."
Abia State – Okezie Ikpeazu
DMO's report showed that Governor Ikpeazu would also leave the office with N103.71bn in domestic debt and $94.28m in foreign debt.
Despite these, he is entitled to 100 per cent of his salary and official vehicles worth N20m to be replaced every four years, a police orderly, two operatives of the Department of State Service, two policemen for the security of his house, as well as allowances for cooks, stewards, driver and gardener, while his deputy will enjoy similar benefits.
The law also made provisions for medical attention for the former governors and their deputies.
The Pension Law for former governors and deputy governors of the state also provides that former governors are entitled to "the sum of money as may from time to time be granted by the state government by way of pensions, allowances and privileges in accordance with this law."
However, Dr Alex Otti, who emerged as the only governor-elect of the Labour Party and will take over from Ikpeazu of the Peoples Democratic Party on May 29, will face the challenge of repaying over 30 months' salaries arrears to workers.
The Nigeria Labour Congress recently declared an indefinite strike in the state over the huge indebtedness to the workers.
Niger State – Abubakar Sani Bello
Also, Governor Bello, who will vacate the Government House in Minna to the Senate to represent the Niger North Senatorial District, will leave some debts for his successor.
Despite that, he will be a beneficiary of a pension scheme introduced by the Abdulkadir Kure administration, which provides for the payment of pensions to former governors and deputy governors and the provision of two drivers on GL 07, two personal assistants on Grade Level 08, security aides and an SUV renewable every year. He will also get a mansion in a location of his choice.
Bello is, however, leaving behind at least N95.59bn in domestic debt and $69.23m in foreign debt.
Katsina State – Aminu Bello Masari
President Muhammadu Buhari's home-state governor, Masari, will complete his second term on May 28, passing on at least N62.37bn domestic debt and $53.92m foreign debt, Naija News understands.
As amended, the Katsina State Pension Law, 2011, provides pensions for all former governors of the state, including those who served in the old Kaduna State from which Katsina was carved out.
The governor, just like his predecessors, is to enjoy free houses and medical services under the law as well as pension benefits of N2.22m monthly, vehicles and personal aides.
Ebonyi State – David Umahi
Data obtained by journalists showed that the Ebonyi State Political Office Holders Amendment Law, 2011, makes provision for the payment of pension to Governor Umahi, who is set to move to the Red Chamber of the National Assembly. The law also made provisions for vehicles and personal aides, among others, for the governor and his deputy. However, the state had N76.5bn domestic debt and $58.57m foreign debt.
Many other states, like Cross River, Benue, Enugu, Taraba, Kebbi, Kaduna and Plateau states, who made it to the list of debtors, have similar provisions for their former governors and deputies while owing workers.