Anxiety As APC Govs Meet Over 10th NASS Leadership Controversy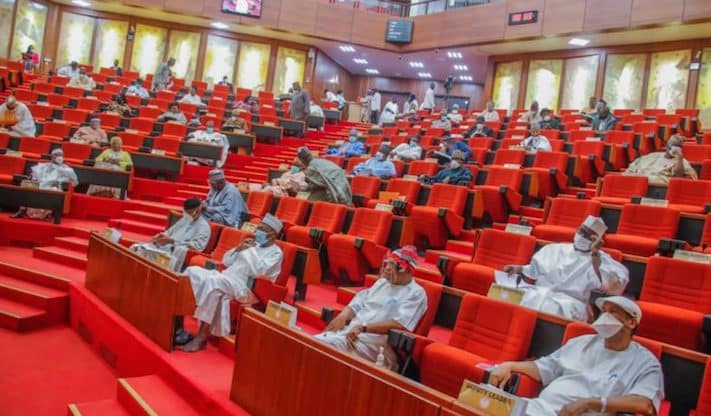 Governors from the All Progressives Congress (APC) are scheduled to meet today to discuss the contentious issue of leadership allocation in the National Assembly.
This comes amidst a vigorous lobbying effort by some governors who insist on maintaining the party's original zoning plan.
Naija News recalls that the Governor of Ondo State and chairman of the Southern Governors Forum, Rotimi Akeredolu, criticized the APC National Working Committee's zoning arrangement as inequitable and unworkable.
The APC's initial allocation plan included positions for Godswill Akpabio (South South) as Senate President, Senator Jibrin Barau (North West) as Deputy Senate President, Hon Tajudeen Abbas (North West) as Speaker, and Benjamin Kalu (South East) as Deputy Speaker.
Despite APC national chairman Abdullahi Adamu suggesting a potential review of the zoning arrangement last week, several party stakeholders are advocating for its retention.
In the meantime, new proposals have reportedly been extended to aspirants for the position of Speaker of the House of Representatives, encouraging them to accept the deputy speaker role after they previously declined ministerial offers.
The party had offered ministerial positions to these disgruntled candidates in hopes of getting them to accept Abbas, who is backed by the current Speaker of the House, Hon. Femi Gbajabiamila.
The frustrated candidates, known as the G-6, include Deputy Speaker Hon. Ahmed Wase, Hon. Aliyu Betara, Hon. Sada Soli, Hon. Miriam Onuhoa, Hon. Yusuf Gagdi, and Hon Sani Jaji.
A source close to the G-6 that spoke with Leadership stated, "We are very confident that when the APC governors meet tomorrow (today), they will offer quality advice and proper solutions to the lingering crisis."
The source also indicated that opposition lawmakers, especially from the Peoples Democratic Party (PDP), are evaluating their chances of presenting a "surprise nomination."
The PDP's strategy, however, will depend on how the APC resolves the zoning arrangements and whether it can bring all stakeholders onboard.