Again, Supreme Court Adjourns Nnamdi Kanu's Trial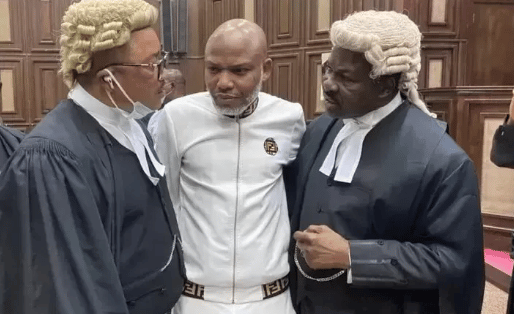 Nigeria's Supreme Court has adjourned the bail hearing of the leader of the Indigenous People of Biafra (IPOB), Nnamdi Kanu, till September 14.
Naija News reports that the apex court heard the appeal filed by Kanu today, Thursday, May 11, 2023, after it had adjourned the case on April 27, 2023.
It could be recalled that the Biafra agitator, on November 3, 2022, filed an appeal before the apex court over his continuous detention at the Department of State Services (DSS).
Kanu's appeal was against the decision of the Court of Appeal, which on October 28, 2022, stayed the execution of its earlier order acquitting him of all charges and directing his release from the custody of the secret police.
Not satisfied with the denial of his bail application by the Federal High Court and the Appeal Court, the Briafra agitator proceeded to the Supreme Court.
But in a ruling on Thursday, the apex court adjourned the bail hearing of the IPOB leader till September 14, 2023.