Adeleke: We Shall Meet In The Trenches – Osun APC Tells PDP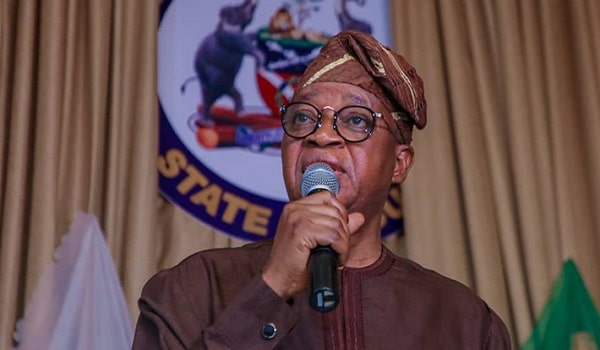 The All Progressives Congress (APC) in Osun State has received the Supreme Court's verdict and affirmation of Governor Ademola Adeleke as the winner of the July 16, 2022, governorship election in good fate.
The party admitted, though, that the court's ruling is painful. It, however, assured the Peoples Democratic Party (PDP) and the incumbent government that they would be meeting in the trenches when it is constitutionally ripe.
The APC stated this in a communique issued on Tuesday, May 9, by the Osun state acting Chairman of the party, Tajudeen Lawal, Naija News reports.
Lawal, who spoke in Osogbo, the state capital, "Even though we are not happy with the judicial decision, the Supreme Court decisions were final, which could not be challenged in any other court of the land."
According to him, as a democratic political body that solely believed in the rule of law, there was no way the party could fault the judgment of the Supreme Court as the highest court in the land.
"While we are congratulating the beneficiary of the judgment, we make bold to state that we shall not be found wanting in playing our expected opposition roles to keep the government on its toes.
"The members and supporters of our party should refuse to be downcast with the current political situation in the state as the nature of politics is that one does not win all the time.
"The prevailing condition of the winner(s) of today does not make him the perpetual winner, as the political office which was contested for is a tenured one for a period of four years, after which we shall have the opportunity to slug it out with those who are rejoicing over today's victory.
"It is, however, worthwhile to state that our party and our candidate, former Governor Gboyega Oyetola, might have lost the election as the apex court of the land pronounced it, but it is visible to the court of the public that they never lost the battle.
"That Osun State is a common patrimony is the reason we are assuring the PDP and the government that we shall be meeting in the trenches when it is constitutionally ripe to do so," Lawal stated.
The party chieftain noted that the way forward for the APC in Osun would be communicated to esteemed members and supporters soonest.
Naija News reports that a five-member panel of the Supreme Court upheld the decision of the Court of Appeal in Abuja, which had affirmed Adeleke's victory on March 24.
The Osun tribunal had on Jan. 27 annulled Adeleke's victory and declared Gboyega Oyetola of All Progressives Congress as the valid winner of the poll after the Independent National Electoral Commission had returned Adeleke as the winner of the poll.