10th NASS: Efforts To Derail Akpabio Intensifies, As Lawan Seeks Probe Of NDDC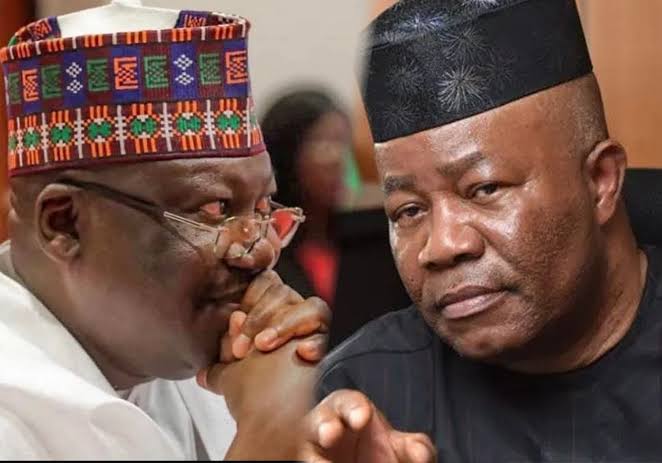 The Senate President, Dr. Ahmed Lawan, has set up a seven-member ad-hoc committee to probe the Niger Delta Development Commission (NDDC) for embarking on expenditure amounting to N1.4 trillion without appropriation.
Naija News gathered that speculations are that the move is to derail the former Minister of Niger Delta Affairs, Godwill Akpabio from becoming the Senate President for the 10th National Assembly.
It would be recalled that, the National Working Committee (NWC) of the All Progressives Congress(APC)  had on Monday announced Akpabio as its choice for Senate President.
However, the APC's decision has not gone down well with many of his colleagues.
In what seems to be a move to cause setback for Akpabio's ambition, a motion to probe activities of the NDDC,was moved by Senator Adamu Aliero (PDP, Kebbi) during consideration of a report by the Committee on Niger Delta on NDDC's 2021, 2022 and 2023 budgets.
President Muhammadu Buhari had, earlier this year, asked the Senate to approve NDDC's budgets for 2021, 2022 and 2023.
It was learnt that the request for approval came after the interventionist agency had spent the funds for the 2021 and 2022 financial years, totaling N1.4 trillion.
But the president, in the proposal transmitted to the parliament, had explained that a total budget of N485.7 billion was proposed for the NDDC in 2021, N928.2 billion in 2022, and N876 billion in 2023.
Senate consequently referred the budgets to its committee on Niger Delta after scaling second reading.
The committee on Niger Delta chaired by Senator Bulus Amos (APC, Gombe), submitted its report on Tuesday and urged the Senate to approve the budget estimates.
But Aliero along with senators Seriake Dickson (PDP, Bayelsa) and Solomon Adeola (APC, Lagos) raised concerns about the budget saying it was a breach of the constitution for NDDC to carry out expenditure of the budget estimates without approval of the National Assembly.
Adeola said there was an urgent need to carefully look at the 2023 budget estimates of NDDC as clarifications and further information was required on figures presented on the budget.
The Senate President, Ahmad Lawan, therefore, raised a panel to probe the agency's financial book.
According to him, the term of reference of the ad hoc committee was to investigate the financial activities of NDDC on the 2021 and 2022 budget estimates.
The committee, chaired by Senator Yusuf A. Yusuf (APC, Taraba), is to submit its report to the plenary in one week. Other members of the committee include: Seriake Dickson, Uche Ekwunife, Abdullahi Yahaya, Saidu Alkali, Adetunmbi Olubumi and Sadiq Sulaiman.
The Senate also stood down consideration of the 2023 budget estimates of the NDDC, while asking for further information and clarification on the figures contained in the proposal.