Senate Presidency: Why I Obeyed Tinubu When He Asked Me To Step Down For Akpabio – Umahi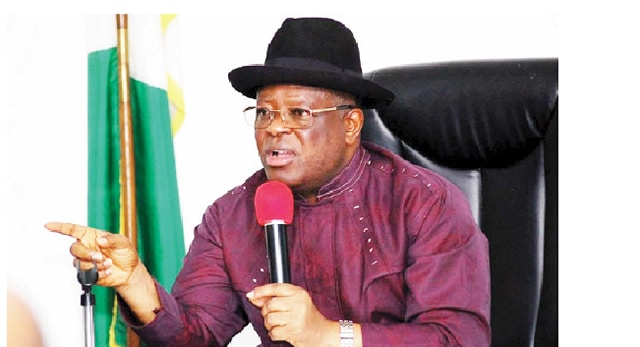 The Governor of Ebonyi State, Dave Umahi has said that the President-elect, Bola Tinubu instructed him to step down for Senator Godswill Akpabio in the race for the 10th National Assembly presidency.
Umahi said that he decided to obey the President-elect because he does not want to be a clog in the wheel of his progress.
Umahi made the disclosure on Monday at the Muhammadu Buhari International Airport, Onueke, Ebonyi State, while answering questions from newsmen on arrival to the state from Abuja.
He noted that it was an honour to be invited to dialogue with the President-elect concerning the senate.
The Governor stated that he discussed the issue of his senate presidency bid with Tinubu and had to accept his request in the interest of the All Progressives Congress (APC) and the South East zone.
He said, "I discussed the issue with him when he was in Paris and on return to the country, he invited me.
"It is his right as the president-elect to make commitments and anyone running for such office makes promises.
"I did not want to be a clog in the wheel of his progress so I accepted.
"We cannot continue opposing everything as politics is all about dialogue, give and take.
"What could have happened if I said no and considering our efforts to promote the APC in the zone, we will get a tangible position."
Speaking further, the governor said that he was not aware of any resolution of south east senators to support former Abia Governor, Sen. Orji Kalu for the position.
"I am the chairman of the Akpabio campaign council and can tell you that we have more APC senators on our side," he said.