Sonia Ogiri Speaks On Introducing Halima Abubakar, Other Actresses To Apostle Suleiman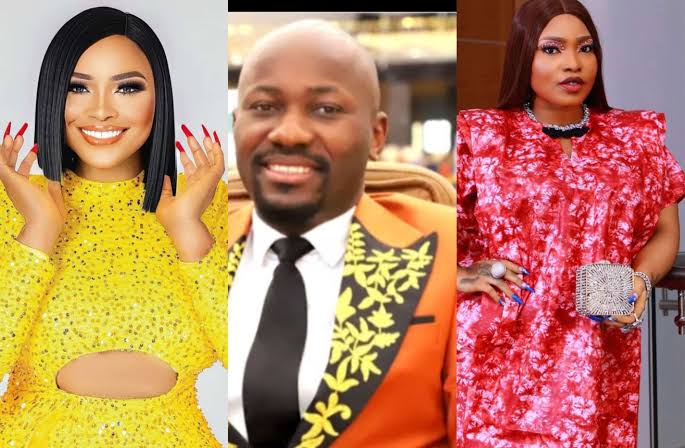 Nollywood actress, Sonia Ogiri has reacted to allegations of linking Halima Abubakar and other actresses to the General Overseer of the Omega Fire Ministries, Apostle Johnson Suleman.
The actress, who shared a video of a vlogger speaking on her make-believe 'Liposuction' and her relationship with Apostle Suleiman, fumed at the accusations levelled against her.
Infuriated at the clips, the thespiam vowed to drag the vlogger identified as Tessy to court for accusing her of having deals with the pastor.
The thespian lamented that she has always avoided scandals and would not tolerate any form of character assassination on her person.
In her words:"What. I can't even Believe my own ears. When did I say all this? I couldn't believe it when they sent this to me.
"I swear. I and this Tessy woman will end in court for including my name in Apostle sue Saga. As much as I play too much and all, I will never appreciate involving my name in scandal, I have kept my name off scandals and I don't know where in heavens name she got that news from cause even when Almighty gistlover mentioned names, mine wasn't mentioned and truth is, I have never being involved in things like that. This the part that hurts me the most in all the lies she was feeding people with. I and Halima never had or have such relationship.
"Firstly I didn't know Tonto went for anything and for her to think I Sonia Ogiri will do anything because people are doing it is daft. I have a mind of my own and nobody, situations can influence me. See how People truly wish you bad. (getzonedup.com)
"Tessy it is you that go market and no return. See who dey advice people. You don enter my Wahala."