10th NASS: Akpabio-Jibrin Alliance Gets Over 65 Senators Endorsement As Oshiomhole Waits In The Wings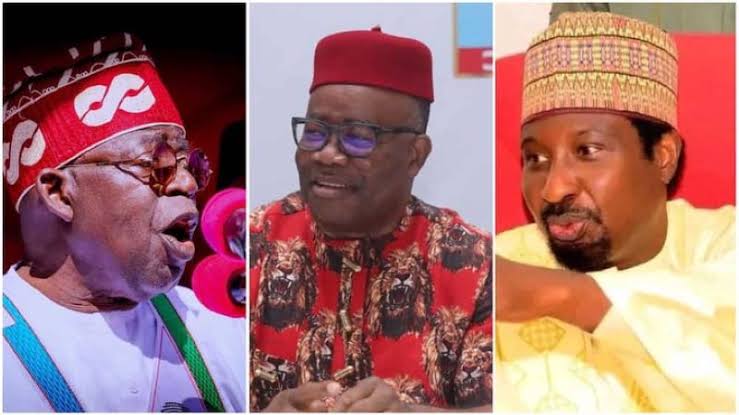 Strong indications have emerged revealing that a former Akwa Ibom State governor, Senator Godswill Akpabio, might have moved ahead in the race to become the Senate President of the 10th National Assembly following his alliance with another aspirant, Senator Barau Jibrin, as his prospective deputy, if he emerged senate president.
It was gathered that over 65 senators were said to have aligned with the Akpabio/Jibrin alliance and had allegedly declared their support for them after signing off their commitment.
According to ThisDay, Akpabio has begun to leverage relationships and advantages as a former governor and senator to gain an edge over other contenders.
The Senators who have backed the Akpabio-Jibrin alliance comprised new and old members. They were believed to have lined up behind Akpabio because of the need to balance the north/south dichotomy and faith since the incoming president, Bola Tinubu, and his deputy, Kashim Shettima, are Muslims.
It was gathered that with Jibrin, the senator representing Kano north in alliance with Akpabio, for the office of the Deputy Senate President, the tide might have begun to tilt in their favour.
Adams Oshiomhole
But a former national chairman of the All Progressives Congress (APC) and first-time senator, Adams Oshiomhole, has refused to give up on his aspiration, even though he has been quiet and discreet about it.
The former Edo State governor reportedly hopes things would soon get to a head and the current cards would be reshuffled to his advantage.
Oshiomhole, a former Labour leader, is said to be relying on the constitution's provisions, which allow all senators to run as a function of their fundamental human rights, regardless of the extant rules.
Orji Uzor Kalu
Also, the Chief Whip of the 9th Senate, Orji Uzor Kalu, feels he is qualified and has the capacity and means to lead the Senate.
Although, This Day reports that many of his colleagues in the Red chambers and party members see him as having some credibility crisis hanging on his neck.
Orji Kalu, a former Abia State Governor, has stated on many occasions that zoning the seat to the South East would give the Igbo some sense of belonging as it would be seen as a conscious effort to address the alleged recurring marginalisation of the Igbo in the political arrangement of the country.