Yes Daddy: Peter Obi Under Fire Over Confirmation Of Phone Call With Oyedepo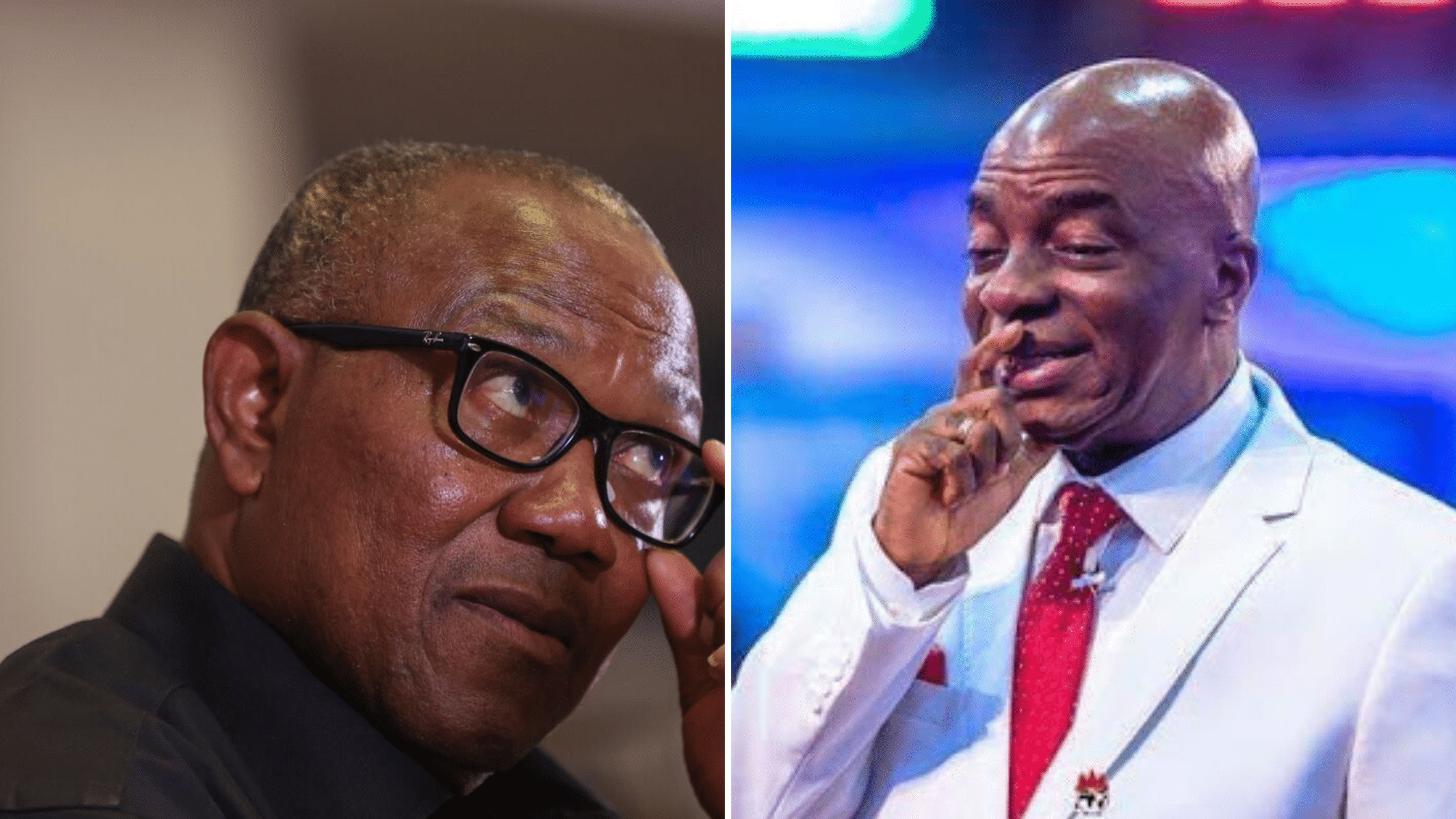 Reactions have trailed the confirmation of a private conversation between the presidential candidate of the Labour Party (LP) in the 2023 elections, Peter Obi, and the founder of Living Faith Church Worldwide, Bishop David Oyedepo.
Naija News reported that the former Governor of Anambra State, on Monday night, admitted phoning Oyedepo when he appeared on a programme on Arise Television.
The LP flagbearer, however, debunked describing the presidential election as a 'religious war', stressing that he did not at any time during his conversation with the cleric refer to the election as a religious war.
He maintained that he is not an ethnic/religious bigot, stressing that he sponsors many Muslim residents in Onitsha on pilgrimages to Mecca in Saudi Arabia.
However, some Nigerians took to the micro-blogging platform, Twitter to express their views regarding the confirmation of the phone call between Obi and Oyedepo.
See some of the reactions below.
Now that Peter Obi confesses to have spoken with Oyedepo on phone regarding "yes daddy" audio leak, those Obidiots that were out defending that, d audio wasn't real should be weeping. We have said it b4 & we will say it again, religious b!got like Peter Obi will never president.

— Northerner (@Northerner0) May 2, 2023
In just one interview, Peter Obi exposed himself again as a liar from the pit of hell that should never be taken serious for a minute.

– Confessed to owning a house in UK after denying it.

– Confessed to having YES DADDY conversation after denying it. pic.twitter.com/0NcVHi0lBN

— A. Ayofe (@abdullahayofel) May 2, 2023
A very simple question. Yet Obi kept dancing around without providing any succinct response. This is coming after he had claimed the 'yes daddy' audio conversation was fake and promised to sue @GazetteNGR. His lying culture is a national pandemic. pic.twitter.com/H3GoApi0Zf

— Martin Okorowu 🇳🇬 (@martinokorowu) May 2, 2023
I tried to defend this man few weeks ago when the 'yes daddy' audio leaked but he has just proven the opposite. He did have that conversation & you have the guts to come on National TV to say you are not a tribal/religious Bigot. Cmon Greg.

— Lami (@MrLamiofficial) May 2, 2023
So obidiots are dodging the part where Peter Obi couldn't deny the "yes daddy" audio even after threatening to sue PG,& where PO time travelled to the UK in 2025 according to him, but are fixated on his response to Lai?

We are dealing with mad & delusional people in this space.

— A (@MisterAbayomi) May 2, 2023
When Kenneth Okwonko said that, audio release of "Yes Daddy" and Religious war was real, Y'all came for his head.

Now that the Messiah @PeterObi confirmed it. Could he also be suffering from dementia? pic.twitter.com/9jEnkt5R7f

— Muhammad❤ (@AdekunleAbolaj1) May 2, 2023
Cr!minal Mr. Peter Obi, who is a drug lord and tribalistic & religious bigot said Nigerians should go to h!ll and believe whatever they feel about it him.

Peter Obi confirmed the Yes daddy Audio leaked with Bishop Oyedepo.

Thank You, God for saving Nigerians pic.twitter.com/LkLPAjhfab

— Qudus Akanbi Eleyi of Lagos (@EleyiLagos) May 2, 2023
If you were doubting that "Yes Daddy" leaked phone conversation before, this is your proof that it happened.
After all the huffing and puffing on Twitter, threatening People's Gazette with a lawsuit.
Baba cannot answer a simple YES or NO to a direct question.
Fraud! pic.twitter.com/vKa8CYJs76

— Foundational Yorùbá Boy (@Chrisbamidele) May 2, 2023
Bishop Oyedepo agreed a call took place
Kenneth Okonkwo confirmed it
Mr.Obienye also confirmed it
Peter Obi denied it earlier & vowed to sue PG

Now Peter Obi couldn't deny the "YES DADDY" phone but he was trying to be a childish clown caught stealing meat from the soup pic.twitter.com/uhuQgEW00M

— 🦅 ℙ𝕒𝕤𝕥𝕠𝕣 𝕆𝕜𝕖𝕫𝕚𝕖 𝕁 𝔸𝕥𝕒ñ𝕚 🦅 (@StFreakingKezy) May 2, 2023
They have focused on the reply Peter Obi gave to Lai Mohammed since yesterday in order to cover for this SHAMEFUL reply to his YES DADDY audio.

Watch him admit to making that call👇🏽👇🏽👇🏽

— Wale Adedayo 🌍🔰 (@Mario9jaa) May 2, 2023
Obi blatantly denied the "Yes Daddy" audio ever took place and threatened fire & brimstone on Peoples Gazette for accusing him wrongly in his usual performative outrage. Yesterday, he admitted the audio was real and he was taken out of context.

Zero honesty, zero moral values! pic.twitter.com/IjLFgs2hKa

— Pastor Who (@PastorMarvy) May 2, 2023