Soludo Threatens To Cut Anambra Workers' Salary Over Sit-At-Home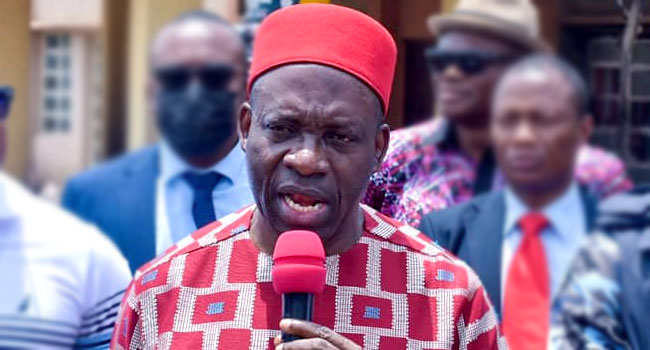 The Governor of Anambra State, Charles Soludo has threatened not to fully pay state workers who use the excuse of the Monday sit-at-home to be absent from work.
According to Governor Soludo, some workers in the state have turned the sit-at-home into an excuse to stop coming to work on Mondays.
The Governor, therefore, warned that those who don't come to work fully should also not expect their total pay. He added that if the workers don't turn up on Monday, then they should be ready to come to work on Saturdays.
He stated this during his speech to the workers on the occasion of the 2023 May Day celebration held at the Alex Ekwueme Square, Awka on Monday.
Although the Indigenous People of Biafra (IPOB), which introduced the Monday sit-at-home in the South-East in 2021, to call for the release of its arrested leader, Nnamdi Kanu, had continuously said it has suspended the order, but the people have continued to observe it for fear of attack.
Speaking on the development, Soludo again called on the people to ignore the Monday sit-at-home and resumed normal activities.
He said, "Monday sit-at-home has become an excuse for workers to stop coming to work on Mondays. This cannot continue. You cannot be working for just four days a week and earn full salary.
"We must get back to work on Mondays. If we do not go to work, we must not get our full salary. We must be paid proportionally to the number of days we work. If we must continue staying away from work on Mondays, then we will start coming to work on Saturdays.
"You must do your work and we cannot be working for 70 per cent and earn 110 per cent. We will cut your salaries when you fail to come to work on Monday."
Speaking further, Soludo revealed that there is a lot of pressure on him to increase the salary of the workers but if that is to be done, it would come with downsizing of the workforce.
He, therefore, appealed to the labour leaders in the state to consider the proposal before them.
According to the governor, the state government has been running on N88bn budget deficit in the last year, the 2023 budget was predicated on N4bn internally generated revenue every month, but the state has been generating only N2bn. while Anambra state was supposed to be getting N5bn from the Federal Government monthly, but it is getting less.
He, therefore, called on the workers to buckle up and work towards generating revenue for the state government in order to take care of the workers' welfare and other pressing issues.