Go Back To Your Country – Ghanaian Wig Sellers' Association Scatter Wig Fair Organized By Nigerian Brand
The Ghana Wig Sellers Association (GWSA) on Monday destroyed a wig fair organized by a Nigerian-owned hair brand selling at a cheaper rate.
The development comes after the Nigerian wig brand decided to hold a wig fair to sell their hair product at a cheaper rate to customers against the fixed rate by the Ghanaian hair association.
The clips that surfaced on social media captured placards asking the Nigerian brand to go back to their country.
Some members of the Ghanaian hair association also stormed the venue of the fair, disrupted the event, and destroyed properties at the venue.
Speaking about the issue, one tessy-abel shared videos and photos from the scene with the caption," how can you sabotage someone's business and investment like this because of greed and expect to prosper."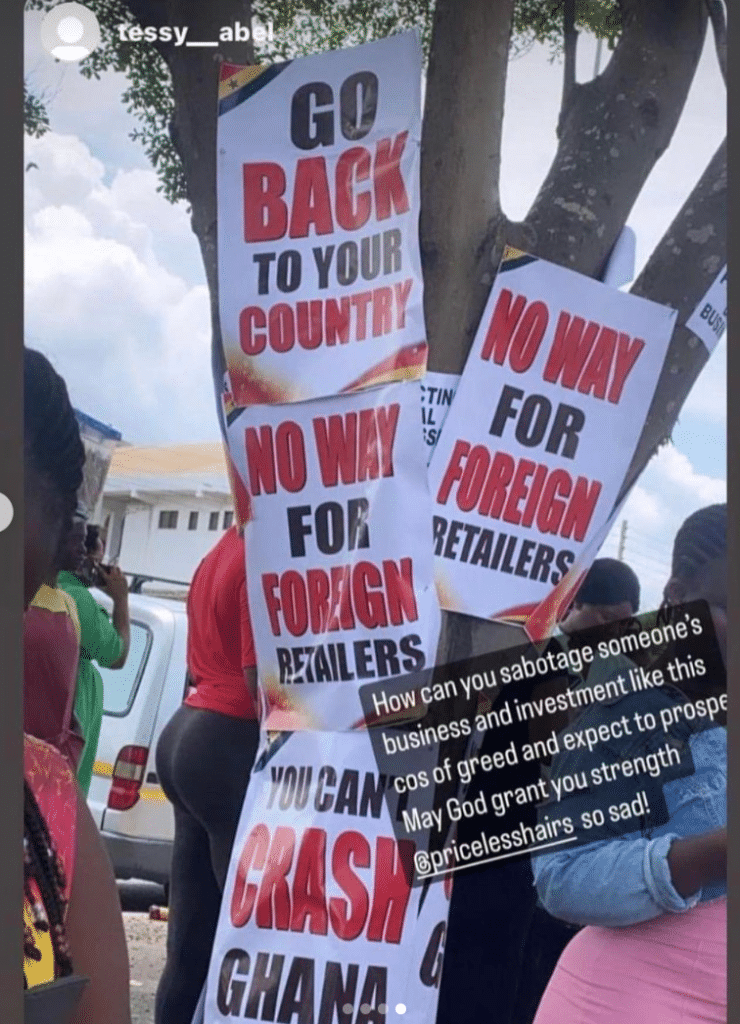 Meanwhile, the Ghana Union of Traders Association (GUTA) had appealed to the Committee on Foreign Retail Trade, to close down shops of undocumented foreign retailers in their country.
It is understood that the Nigerian Union of Traders Association in Ghana (NUTAG) was ordered to collect all the business documents of members, including the tenancy agreements of the respective shops or stalls.
This is coming amid purported plans by NUTAG to reject the special dispensation granted them by the Government of Ghana despite a series of diplomatic efforts by both Ghana and Nigeria governments, Ghanaian Times reports.
A statement from Ghanaian Times reads, "This inappropriate attitude of the Nigerian traders in Ghana is not only an insult but also a well-orchestrated ploy to frustrate the committee, state, and people of Ghana. Therefore, we of the Ghana Union of the Traders' Associations wish to appeal to the Committee on Foreign Retail Trade to, as a matter of urgency resume its operations without any delays as the behaviour of the Nigerian traders has seriously provoked Ghanaian traders and reigniting agitations in the markets."