Your Petition Against Tinubu Is A Waste Of Effort – Ned Nwoko Fires Peter Obi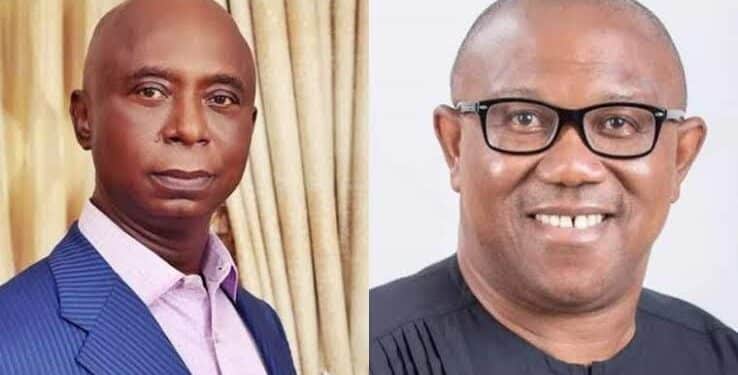 A chieftain of the Peoples Democratic Party (PDP), Ned Nwoko, has said the petition filed by the presidential candidate of the Labour Party (LP), Peter Obi, against the victory of the President-elect, Bola Tinubu, is an exercise in futility.
Naija News recalls that Obi had filed a petition to challenge the victory of Tinubu, the candidate of the All Progressives Congres (APC) in the February 25 presidential election.
Obi, who came third in the election, alleged that the presidential election was characterised by irregularities, praying that Tinubu's victory be annulled.
Speaking with journalists in Abuja on Thursday, Nwoko said Obi's petition filed against Tinubu at the Presidential Election Petitions Tribunal in Abuja might fail once the President-elect is sworn in on May 29.
The Delta North senator-elect stated it is almost impossible to stop Tinubu from completing his four years tenure, adding that LP's poor assessment of the polity and unrealistic expectations led to its defeat.
Nwoko maintained that the ruling party would have suffered a severe defeat in the 2023 presidential poll if the opposition had aligned, adding that an alliance between both parties is the only way to save Nigeria from the APC government.
He said, "Once Tinubu is inaugurated as President, he takes charge of everything. He becomes the Commander-in-Chief of the Armed Forces; he orders them and uses them as he wishes. He appoints new Chief Justice upon recommendation by the judicial council.
"So, you see, it is almost impossible to stop him from completing his four years tenure.
"Moving forward, the PDP and Labour Party have to come to terms and make the next election more strategic. The natural alliance between both parties is the only way to save Nigeria from this inauspicious government.
"It would have been a landslide victory for the opposition if the Labour Party and Peoples Democratic Party had worked together."
Nwoko further blamed the LP and 'Obidients' for Obi's loss in the presidential election, stressing that they were too self-absorbed to give room for logical reasoning.