Baby Diaper Stealing 'Ritualist' Involved In Fatal Accident (Photos)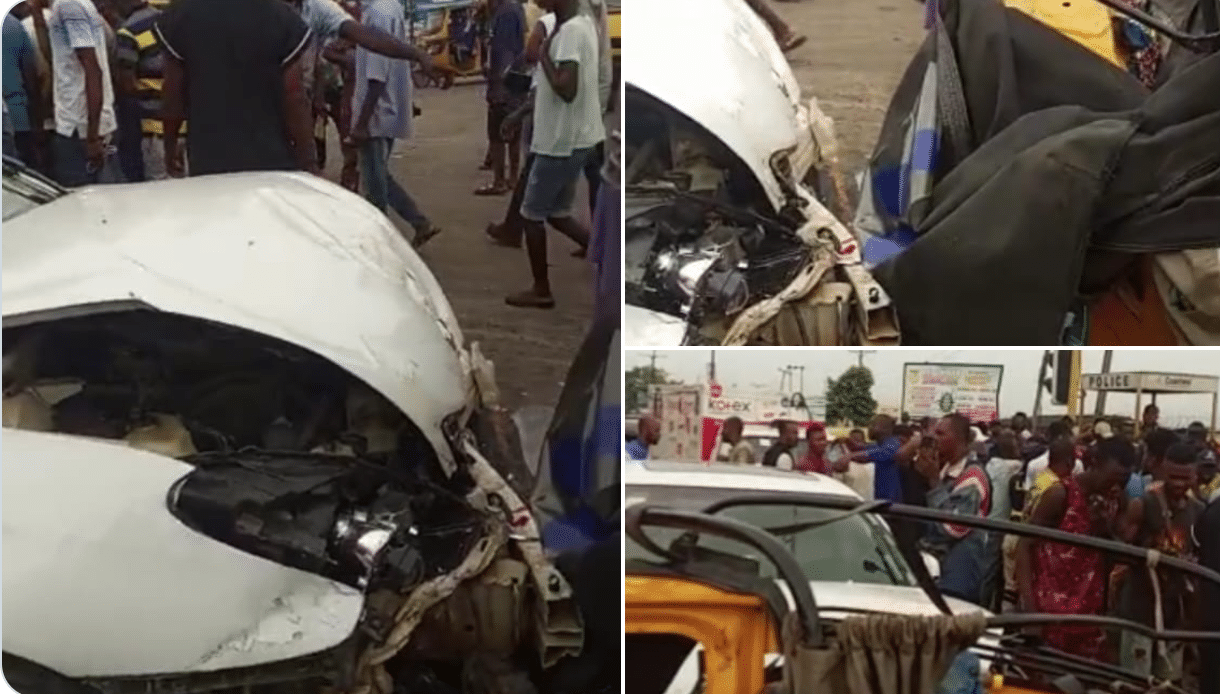 A suspected ritualist with over 100 used baby diapers has been involved in an accident at Mosalasi Round-About inward Iyana-Ipaja area of Lagos.
The Lagos State Traffic Management Authority (LASTMA) in a statement shared on their official Twitter page said the accident occurred on Monday and had left three persons – two males and a female – severely injured.
The spokesman of LASTMA, Adebayo Taofiq said, "Lastma Akanji Wasiu (Bravo 16) who led the rescue operations confirmed that the accident involved 3 vehicles, Mazda commercial bus (FKJ 88 XH), Tricycle (Keke Marwa KJA 369 QM) and a white Camry car (KJA 351 HG) on main carriageway at Iyana-Ipaja area of Lagos.
"Preliminary investigation revealed that the driver of a white Camry car lost control due to overspeeding and hit a commercial tricycle from the rear while the tricycle went off-balanced and obstructed another upcoming fully loaded Mazda commercial bus going to Iyana-Ipaja.
"Those rescued 3 accident victims were immediately rushed to different Hospitals by their relatives but, unfortunately, one of the rescued accident victims (male) reportedly died along the road to hospital.
"Those vehicles involved in the accident were immediately removed from the road to avoid impeding free flow of traffic and handed over to Policemen from Gowon Estate Divisional Police Headquarters for further investigations.
"One of the passengers inside the commercial tricycle involved in the accident was caught with more than 100 pieces of used small children 'Diapers Pampers' with huge sum of money of different denominations was immediately handed over to Policemen at the scene of the accident."
PRESS RELEASE

ACCIDENTS: LASTMA RESCUES 3 ACCIDENT VICTIMS AT IYANA-IPAJA, LAGOS.

……one rescued victim died on the way to hospital.

…..one passenger (suspected ritualist) caught with more than 100 used children 'Diapers Pampers' with pic.twitter.com/Rrm2sFSAh2

— LASTMA (@followlastma) April 24, 2023