Binani: EFCC, ICPC Should Probe N2bn Bribe Allegation – Falana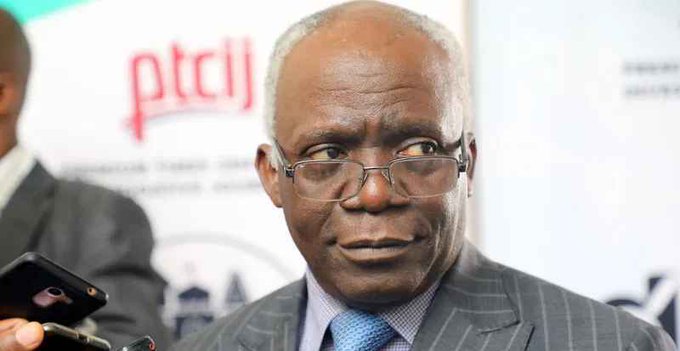 Human rights lawyer, Femi Falana (SAN) has called for an investigation into the alleged 2 billion naira inducement which trailed the just-concluded Adamawa governorship election.
Naija News recalls that the Resident Electoral Commissioner (REC) in the state, Hudu Yunusa-Ari, on Sunday, declared the governorship candidate of the All Progressives Congress (APC) in Adamawa, Aisha Dalhiru Binani, as the winner when the collation of results was still ongoing.
Following the development, there were claims that Yunusa-Ari is a sympathizer of the APC candidate and allegedly collected a bribe of N2 billion to make the controversial announcement.
However, Senator Binani denied bribing Yunusa-Ari with N2 billion to procure a favourable declaration as governor-elect, stating that the allegation is very bizarre and unfounded.
Speaking on Channels Television's Sunrise Daily on Thursday, Falana said the Economic Financial Crimes Commission (EFCC)  and the Independent Corrupt Practices and Other Related Offences Commission (ICPC) to probe the bribery allegation.
He asserted that the denial by Senator Binani was not enough, stressing that the allegation must be investigated by the anti-graft agencies to know the truth and to ensure that all those who breached the law are prosecuted.
Falana said Yunusa-Ari and others involved in the declaration of Binani as the winner should be investigated and prosecuted, adding that Binani's acceptance speech confirmed that she was party to the disarray.
He said: "There are allegations that the sum of 2billion naira is fetching hands, so it is not enough for Binani to deny, there must be an investigation.
"Was there inducement? That has to be investigated. The officers who were at the high table with Mr Yunusa Ari, the commissioner of Police, the Director of the State Security Service, and the Nigerian Security and Civil Defence Corps (NSCDC).
"All those involved in the criminality that occurred, they all have to be tried under the law. It is not enough for the IGP to simply redeploy the commissioner of police involved or for the director of state security to be withdrawn from the state.
"This is not the first time that it has happened, there have been false declarations of results before now.
"The EFCC and the ICPC will have to be brought in to investigate the allegations of inducement of the sum of 2 billion naira. It is also in the interest of the APC candidate to ensure this matter is fully investigated.
"The IGP would have to speed up the investigation. By now, we expect him (Adamawa REC) to have been arrested and if he cannot be found, they have to get a court order to declare him wanted.
"All the security officers involved will have to be investigated and prosecuted. INEC has done the right thing by suspending him so that he does not further taint the democratic process."