LIVE UPDATES: Gov Fintiri Wins Adamawa Supplementary Governorship Election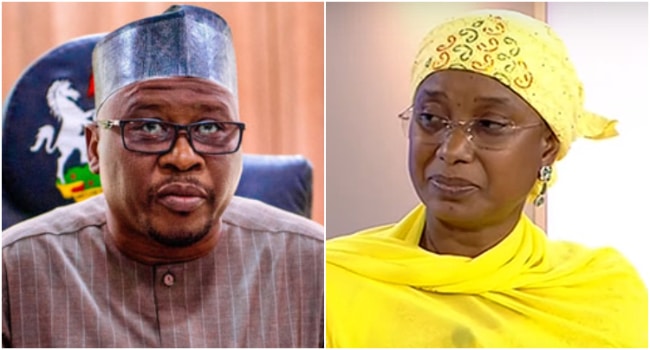 The Independent National Electoral Commission (INEC) have reportedly reconvened and arrived at the collation centre in Yola, the Adamawa State capital for the continuation of declaring results for the State supplementary gubernatorial election.
Recall that the commission had on Sunday suspended collation for the April 15 supplementary governorship election in Adamawa after the erring Resident Electoral Commissioner (REC), Hudu Yunusa Ari announced the All Progressives Congress (APC), Aisha Binani as the winner over the incumbent, Governor Ahmadu Fintiri of the Peoples Democratic Party (PDP).
Stick with Naija News as we bring you more updates…
Governor Ahmadu Fintiri of the PDP defeats Aisha Dahiru Binani of the APC, wins Adamawa State governorship election.
MAYO BELWA LGA. APC. 478 PDP. 672 AV. 2,426 ACV. 1,181
TOUNGO LGA RV: 1684 AV: 825 APC: 427 PDP: 360
GUYUK LGA APC. 228 PDP. 322 GOMBI LGA APC. 12 PDP. 53
MUBI NORTH LGA APC. 168 PDP. 319
MICHIKA LGA APC. 562 PDP 1,027
GIREI LGA APC. 589 PDP. 444
NUMAN LGA APC 621 PDP. 1,403
MADAGALI LGA APC. 47 PDP. 147