Sadio Mane Suspended And Fined For Punching Sane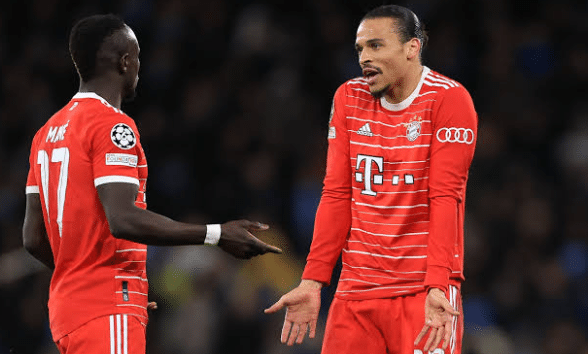 Sadio Mane has been punished for punching his teammate Leroy Sane in the face after Bayern Munich's 3-0 defeat against Manchester City at the Etihad Stadium on Tuesday.
After the first leg of the Champions League quarter-finals round which ended in a defeat for coach Thomas Tuchel and his boys, reports went viral that Sadio Mane and Sane fought on and off the pitch.
The fight started on the pitch after Sane reportedly complained that Mane who was a second-half substitute in the game wasn't running behind him as much as expected during the game. Mane allegedly took that as a rude comment but didn't overreact on the pitch.
When they both got to the dressing room, the fight reportedly heated up that Sadio Mane had to punch Sane in the face and reportedly bruised his lips.
When they arrived in Germany from England, Mane reportedly went home in a private car while Sane followed the team bus home.
On Thursday morning, both Mane and Sane were spotted training together but this afternoon, Bayern Munich announced that Mane has been fined and suspended over the altercation.
Bayern's statement read, "Sadio Mane, 31, will not be in the FC Bayern squad for the home game against 1899 Hoffenheim next Saturday. The reason is Mane's misconduct after FC Bayern's Champions League game at Manchester City. In addition, Mane will receive a fine. (/) "
Based on this, Mane might be available for the Champions League return leg against Manchester City on Wednesday, April 19.