Journalists Barred From Accessing Collapsed Seven-Storey Building In Banana Island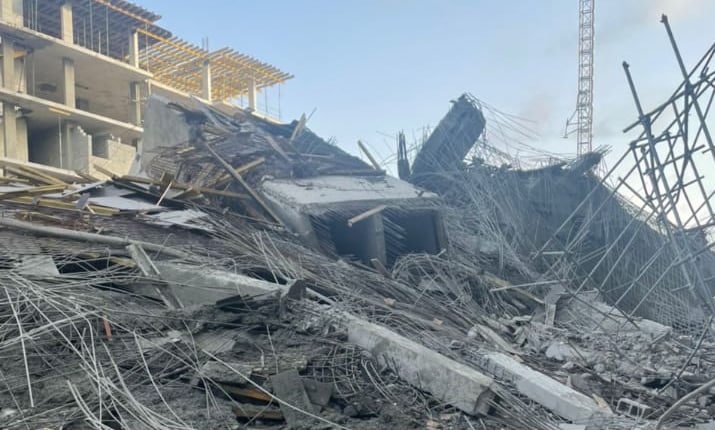 Reports from the collapsed seven-storey building in Banana Island in Lagos State have revealed that some journalists who went to visit the site were denied entry.
Naija News reported on Wednesday that an unconfirmed number of people were reportedly trapped in the collapsed building in Lagos on Wednesday, April 12, 2023.
It was gathered that the structure involved was under construction and is located on Banana Island.
The Lagos Territorial Head of the National Emergency Management Agency (NEMA) confirmed the incident in a brief update Wednesday evening, as emergency responders were mobilised to the scene as several onsite workers were trapped in the rubble.
However, on Thursday, pressmen from various platforms like  The Punch, Channels TV, TVC, Arise, Guardian and others, were asked to wait outside the estate gate.
This is as pressmen complained of waiting for about two hours without them being granted access to the site of the collapsed building.
However, the estate management in its reaction to the long wait provided a tent for waiting for journalists and explained that "They don't want hoodlums to gain access into the estate in order to forestall breakdown of law and order."
Meanwhile, the LASEMA has confirmed that no one died at the site of the collapsed building.
In a statement titled, 'Situation report on the collapsed building at 1st Avenue, Banana Island, Ikoyi' on the agency's Facebook page on Wednesday, it partly read, "Upon the arrival of the LASEMA Response Team at the scene of the incident, a six-storey building under construction was found to have collapsed.
"Information gathered revealed that the building collapsed as a result of a truck that ran into the building.
"Fortunately, no loss of life, however, efforts are ongoing to reconstruct the building to ground zero to forestall any secondary incident. Recovery operations ongoing."