IGP Alkali, Okiro, Ehindero, Arase, Others Meet As PSC, Force Hqtrs Begin Probe Of 'Bribe For Promotion' Scandal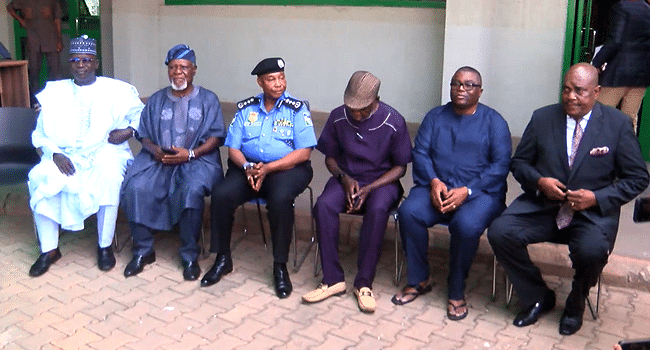 The Chairman of the Police Service Commission (PSC), Dr. Somolon Arase, and four former Inspectors General of Police, including Mike Okiro, Sunday Ehindero, Ogbonna Onovo, Suleiman Abba as well as the Inspector General of Police, IGP Usman Alkali Baba, have held a meeting on the state of the Nigerian Police force.
Naija News reports that the meeting was held on Wednesday at the permanent site of the Police Service Commission, PSC, Jabi, Abuja.
Addressing journalists, former IGP Sunday Ehindero said the meeting deliberated on contemporary problems affecting the Police force.
Meanwhile, the PSC and the Force Headquarters have commenced a joint investigation into allegations by some aggrieved police personnel that the PSC, working with officers at Force headquarters, were collecting bribes of up to $10,000 for promotion.
A source at the PSC disclosed to Vanguard that the decision to embark on a joint investigation followed the fact that both officials of the commission and the Police Force Secretary department were fingered in the allegation.
The source said: "You know Dr. Arase is a no nonsense senior officer who was acclaimed for ensuring that justice is done with regards to promotions in the Nigerian Police force during his time as IGP.
"In fact, his recent call on the Police management to address issues of pending disciplinary cases, so that the backlog would not affect officers due for promotions, is in that light.
"So the investigations have commenced to get to the root of the matter, and soon, you will hear the outcome because nothing will be swept under the carpet."
Recall that the aggrieved police officers had, in a petition to President Muhammadu Buhari, pleaded with him to institute an investigation into the alleged collection of $10,000 bribe for police promotion.
The aggrieved officers noted that it had resulted in a situation where junior officers were promoted over and above their seniors to cause disaffection in the force.
The petition read: "There is serious corruption in the Nigeria Police in the ongoing promotion of senior police officers. Junior ones are being given special promotions ahead of their seniors.
"Of recent, two aides of a senior officer, who were earlier promoted to Chief Superintendent of Police in year 2018, recently benefited from the special promotion to the rank of Assistant Commissioner and have their date of promotion backdated to 13/07/2021."