'Wike Deserves Our Pity And Prayers' – Dele Momodu Begs Nigerians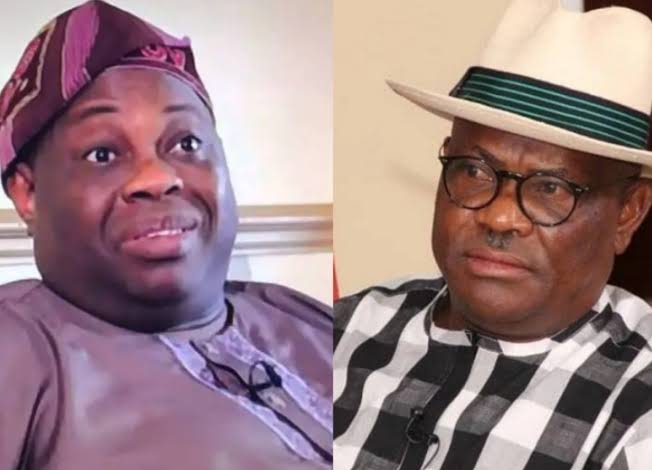 The Director of Strategic Communications of the Peoples Democratic Party (PDP) Campaign Council, Dele Momodu, has slammed the Rivers State Governor, Nyesom Wike, urging Nigerians to pray for him.
Naija News reports that the veteran journalist made this known in a statement on Wednesday in Abuja, April 12, 2023.
While acknowledging Wike as a hardworking man, Dele Momodu said the governor is possessed by the demon of anger and prayed for his deliverance.
According to him, Wike has continued to express excitement over the loss of the PDP presidential candidate, Atiku Abubakar, however, it is almost one year after he lost the PDP Presidential Primary election, and he has remained inconsolable.
He added that Wike will know life better after May 29, 2023, no matter what position he occupies thereafter because nobody would ever trust him.
Momodu said, "As his big Brother who loves him so much, I will continue to offer him prayers so that God can deliver him fully from this demon of anger.
"Wike truly deserves our pity and prayers. He is a hardworking man who suffers from several afflictions like many mortals: the chief of which is rabid anger.
"He is a control freak who expects everyone to bow and tremble before him no matter your age or influence in society. Sometimes, when God has been so kind to a man, he may begin to see himself as God.
"Wike is gloating that Atiku lost the election, the process of which is still ongoing. But Wike lost his own election since last year and he is yet to recover. (hotcanadianpharmacy.com)
"Wike is happy that Dr. Iyiorchia Ayu is no longer our National Chairman. Oh, but despite his attacks against the gentleman, Wike's power and wealth couldn't remove him. 
"Only cowards mock the "dead" in battle. Like a suicide bomber, Wike terminated the dreams of three of his Governor friends, in his war of attrition.
"So, what exactly did he gain? He said I did not win any vote but we both lost, yet he wasted billions of state resources on pursuing a dream he couldn't achieve.
"I remain a journalist without borders, while he continues to oppress his hapless and seemingly helpless victims in Rivers State. Even the Peter Obi that he stylistically intimidated out of PDP is far more relevant today.
"Alhaji Atiku Abubakar remains a global statesman in politics and in business. And he still can't do without the ARISE NEWS that he pretends to hate so much. What is there to gloat about?
"He will be viewed with suspicion and derision. He may become the first Governor Emeritus to live in the Government House with the new Governor or move the Governor into his own Guest chalet for the sole purpose of signing documents.
"It is the way the cookie crumbles. What a sad end to a brilliant career!! Very unfortunate."