Leaked Audio: Come Out Clean – Ohanaeze General Assembly Challenges Peter Obi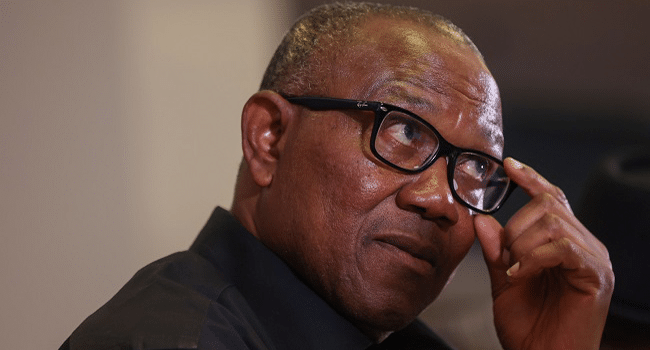 The Director-General, Implementation and Strategic Planning, Ohanaeze Ndigbo General Assembly Worldwide, Ambassador Tony Obizoba has challenged the Labour Party (LP) presidential candidate, Peter Obi to make necessary clarifications regarding the alleged leaked phone conversation with Bishop David Oyedepo of the Living Faith Church.
Obizoba said Obi needs to categorically tell Nigerians if he had the conversation with Bishop Oyedepo or not and if the audio in circulation is doctored or not.
The Ohanaeze chieftain said silence is not an option on the matter and Obi should not leave the matter to press releases by his aides but should make a personal and categorical statement.
He made the call in a chat with Daily Trust regarding the controversial audio in which Obi was alleged to have declared the election as a religious war and begged Oyedepo to help him get votes from Christians in South-West and Kwara State prior to the 2023 presidential election.
According to Ohanaeze, being silent on the matter is not golden and could lead to further heating up the polity.
Obizoba said, "Peter Obi should come out himself and clear the air properly and allow the nation to know the true picture of that audio whether it's doctored or whether there is a fact in the conversation…If actually, the basis of the argument is not whether or not he made a call to Oyedepo.
"Oyedepo has said categorically that many presidential candidates consulted him. If Peter Obi had consulted Oyedepo to seek his support and canvass votes for him from various quarters, it is left for Mr Peter Obi to come out and categorically clear the air on the issue because keeping silent is heating up the polity.
"I had a conversation with some media houses and I told them it is important he comes out himself, not his media aides coming out to defend him, that he should come out himself by issuing a very straightforward and let the whole world know the facts about the matter; that is our position.
"At this juncture, we are not going to begin to create sentiments on religious politics, we are trying to build a country where people see themselves as one even though we are diverse in our various religious and cultural diversities, we have to see ourselves as one and in one Nigeria."