You Are Ignorant, Orji Kalu Gave Tinubu 300,000 Votes — Group Flays Adamu Garba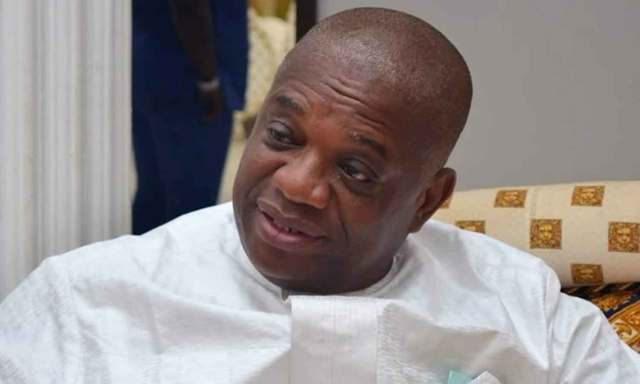 The National support group of the Senate Chief Whip, Orji Kalu has said that reports from a former member of the House of Representatives, Hon. Adamu Garba claiming that the President-elect, Asiwaju Bola Tinubu got only 8,000 votes from Abia State is untrue.
The pressure group known as "OUK Grassroots Movement argued that Garba's submission is not only erroneous but also shows his ignorance.
They insisted that Kalu contributed over 300,000 votes to the victory of the All Progressive Congress (APC) during the presidential elections.
Speaking via a press release on Tuesday, the group's leader, Alhaji Murtala Mohammed said Garba has no moral standing to advise the party leadership as he had recently dumped the party only to return a month after.
Murtala stated this while replying to Garba's statement on national TV where he said that members of the APC in the South-East did not do enough to give them the right to demand that the office of the Senate President should come to the South-East.
Replying, the pressure group claimed that the comment was a deliberate attempt to jeopardize Kalu's chances of emerging as the next Senate President in June, adding that such an attempt will fail.
The statement read thus: "Our attention has been drawn to a fake news story flying on social media platforms that Orji Uzor Kalu gave Tinubu only 8000 votes during the Presidential election. That's an insult to the Distinguished Senator and former Governor who has the capacity to run for President. How can someone who has a national political structure give Tinubu only 8000 votes during the Presidential election? It's not true
"For the record, we formed a Movement to mobilize support for the former Abia Governor to run for President and we were able to mobilize supporters across all the 36 States of the federation and FCT, Abuja, but when it became clear that our principal is not going to run for President, we collapsed our structure for Tinubu and eventually we gave Tinubu over 300,000 votes
"What I am saying is that the political structure of Orji Uzor Kalu cuts across the whole country because he has followers and supporters all over the 36 States and FCT Abuja, so it is wrong to use votes from Abia State and the Southeast geopolitical zone to judge his contribution to the election of Tinubu as President during February Presidential election."