Who Made Yakubu, INEC Declare Tinubu As President-Elect? – Atiku Campaign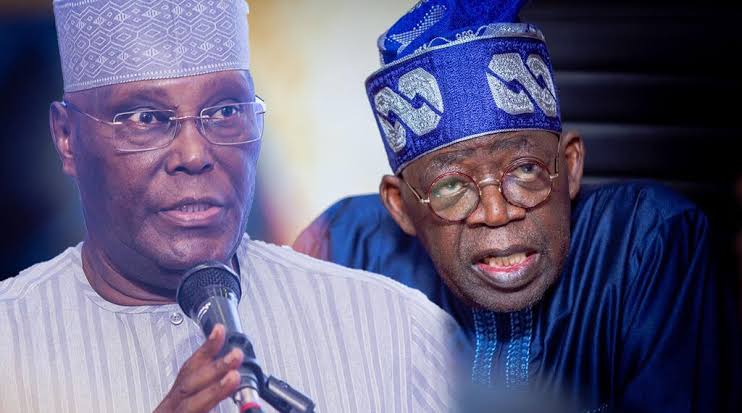 The Presidential Campaign Council (PCC) of the Peoples Democratic Party (PDP) has questioned the Chairman of the Independent National Electoral Commission (INEC) for declaring Tinubu as President-election.
The Director of Planning and Strategy of the Atiku campaign, Pedro Obaseki, while addressing newsmen in Abuja, wondered why Tinubu who had less than 18 per cent votes in FCT was declared winner.
According to Obaseki, Nigeria has become a laughing stock following the outcome of the last presidential election.
Obaseki said: "Nigeria is becoming the laughing stock of all comity of nations simply because a simple civic duty earnestly engaged in by millions of Nigerians had been stolen by a mistophilian few who are bent on foisting on our nation a rulership, a dictatorship via the pretenses of the ballot box.
"These are issues that we should be questioning putting in the public domain. Whether or not the court proceedings have started or not is of lesser consequence because talking about the elections will not make it subjudices because I am not a direct party, I am not a petitioner, neither am I the petition."
He said it is imperative for the Nigerian judiciary – "all the justices of the Court of Appeal that will constitute the Presidential Election tribunal to know that the future of this country is hinged on them doing the right thing.
"It is time to break this shackles, chains and since they did not allow us do it via the ballot box, the judiciary must be held accountable so that they will do what is right with their oath of office, as officers of both the bar and the bench, to do what is right, both in the spirit and the letters of the law. That is my position. This is a position that is endorsed by Atiku Abubakar."
Speaking on why Atiku and the campaign had not been speaking out, Obaseki said, "For about three weeks, some of us who were not career politicians kept wondering what was going on. Assume that Pedro's voice is the voice of the Wazirin Adamawa, Atiku Abubakar. He is a man of peace. He asked me a question that shut me down. He asked me, Pedro, you want me to start shouting now and you let these people come out with their guns and kill innocent Nigerians? ()
"That shut me down a little, but it will not stop us from doing what is right because the freedom of a people is based on the blood of martyrs. People must stand between the gap. Since the court processes will soon commence, I am crying now on behalf Of Atiku Abubakar that this is the position. If you look at the 223 paged petition, the election petition which I think for the benefit of the doubt, should be circulated.
"We want to at the end of the day, look at the INEC figures that the commission itself put out, they don't even tally even close to 60 percent. Who advised Mr Yakubu? Who made them make promises to Nigerians that they can't keep? Who made him to agree to declare Mr Bola Tinubu who had less than 18 per cent of the votes in the FCT?"