Unfold Extraordinary Moments With TECNO's First Foldable Smartphone: Phantom V Fold.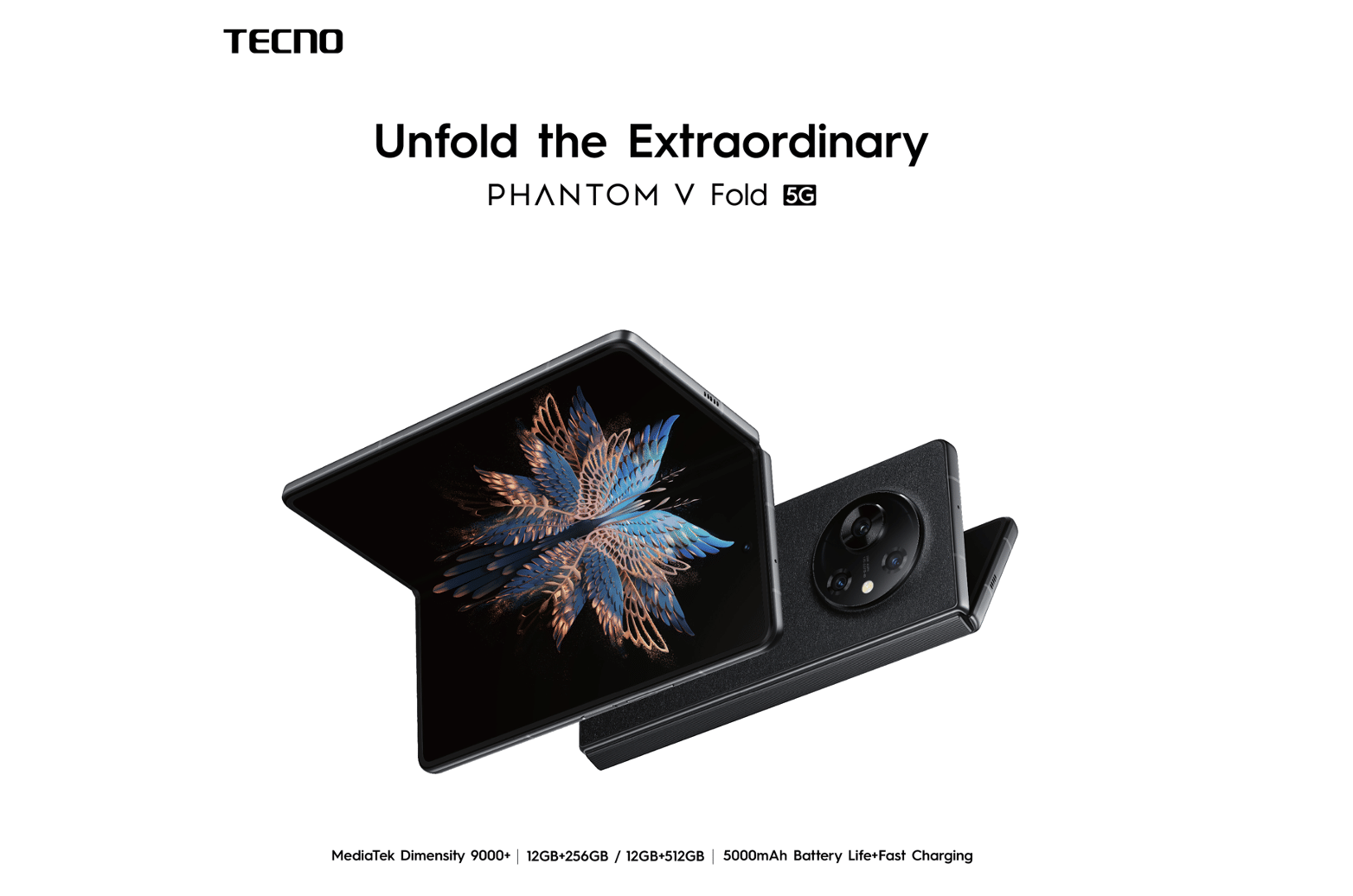 The TECNO PHANTOM V FOLD is a game-changer for the mobile phone industry, introducing a new level of innovation and design that has captured the attention of consumers and industry insiders alike. With its unique folding design, high-end specs, enhanced camera capabilities, impressive battery life, and innovative user interface, the Phantom V Fold has set a new standard for mobile devices, creating new opportunities for customers and driving innovation in the industry. It's the ultimate smartphone for those who love innovation, creativity, and functionality.
TECNO has defied expectations again and propelled the industry forward with its latest unveiling. Amidst a grand gathering at The Library in Victoria Island, Lagos, the Phantom V Fold was unleashed upon the world, a true titan among smartphones that have already begun to reign supreme. Dare to join the elite's ranks and embrace this cutting-edge device's game-changing power.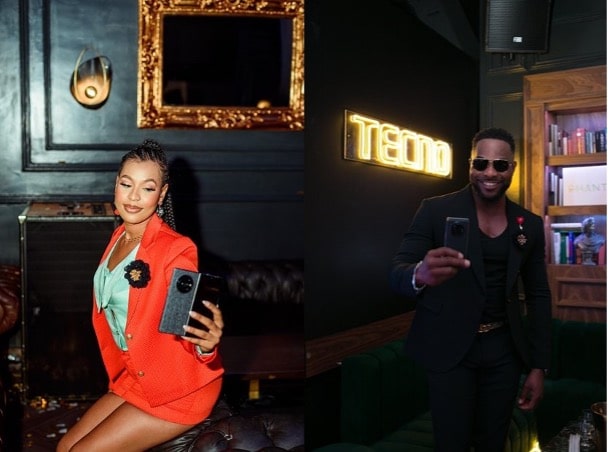 Another striking thing about the launch was the array of stars that gathered at The Library for the TECNO PHANTOM V FOLD launche launch was extraordinary in every way, thanks to tech enthusiasts and the entertainment world's elite, including AY, the comedian, Bovi, the MC of the day, Linda Ikeji, Toyin Lawani, among others. The reception to the launch was overwhelmingly positive, and many attendees expressed enthusiasm for the Phantom V Fold's cutting-edge features and top-notch specifications.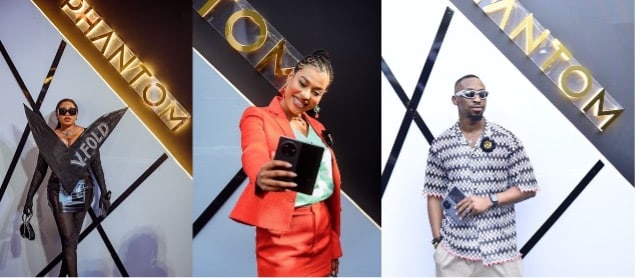 One event highlight was the unfolding of the Phantom V fold, unveiling the Phantom V Fold device by gorgeously dressed ladies who held it in their hands and made their way to the stage as classical music filled the air. As the Phantom V Fold was unveiled, one could tell that this is where class meets technology.

The Phantom V Fold is undoubtedly the result of years of research, development, and innovation. It is designed to provide a seamless user experience with intuitive, easy-to-use features and is adaptable to any situation. Its foldable design is a true testament to TECNO's commitment to pushing the boundaries of what is possible in mobile technology.
It was also said that the Phantom V fold does not show any crease at the phone's center when you unfold it. It might amaze you that you can perform the fold and unfold up to about 200,000 times without experiencing any crease on your screen, as seen with most of its contemporary.
The Phantom V fold also boasts incredible high-end specs, such as those outlined below.
Innovative folding design: The Phantom V Fold boasts a unique design that transforms the device from a standard smartphone into a compact and portable form factor. This innovative feature is a game-changer for those who value convenience and flexibility in their mobile devices. It's the only smartphone on the market that has this feature.
High-end specs: The Phantom V Fold is not just a pretty face. It comes packed with high-end specs that make it a true powerhouse. With a powerful processor, ample storage, and lightning-fast connectivity, this device is designed to handle whatever you throw. It has an exclusive processor to this device, designed to give the best experience for multitasking and gaming.
Enhanced camera capabilities: For those who love to capture every moment, the Phantom V Fold's enhanced camera capabilities are sure to impress. With a high-resolution camera that takes stunning photos and videos, you can capture every detail and share experiences with friends and family.
Impressive battery life: One of the most frustrating aspects of modern smartphones is their short battery life. However, the TECNO PHANTOM V FOLD addresses this issue with an impressive battery that keeps the device running for hours. It has a 5000 mAh battery capacity supports 45W fast charging technology, meaning you can charge up to 70% in just 30 minutes.
Innovative User Interface: The Phantom V Fold has an innovative user interface (UI) designed to make your life easier. With its multitasking feature, you can use up to three applications simultaneously. It's the first smartphone on the market to have this feature.
Getting this extraordinary Phantom V Fold device is now easy with Easy Buy with a 30% down payment and enjoy a 0% interest rate. Scan the QR code to get this offer. It also comes with a free MTN 5G router+100GB of data, and lots more. Ts & Cs apply!
For more information, follow TECNO Mobile on Facebook, Instagram, and Twitter