'Headless Mob Killed Christ': Soludo Under Fire Over Controversial Easter Message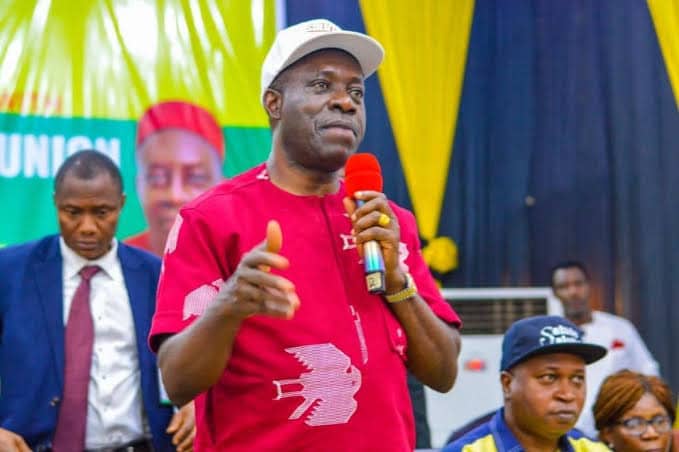 Governor Chukwuma Soludo of Anambra State is currently being dragged online over his controversial Easter message.
Naija News reports that the governor, on Monday, released his Easter message which was posted on his Facebook page in celebration of the 2023 Easter.
In his message, Soludo wished the Anambra people a happy Easter celebration but added that a headless mob killed Christ because of their emotions, which collided with the truth embodied by Christ.
The governor also prayed that the resurrection power encourages all those with the wisdom and courage to stand up for the inconvenient truth at all times.
The message reads: "Christ is risen, hallelujah! Our Lord brought the inconvenient truth about salvation.
"The headless mob mocked, condemned and crucified Him. Some 2000 years after, the truth, embodied in the risen Christ and His message of salvation and eternity, still endures.
"History teaches us and the experience of our Lord confirms that whenever strong fleeting emotions collide with the truth, emotions triumph temporarily but ultimately the truth prevails.
"May the resurrection power encourage all those with the wisdom and courage to stand up for the inconvenient truth at all times. The truth will always prevail. In the end, no history book has ever been written in honour of the emotive critics or the headless mob.
"May Anambra and Nigeria always win. Happy Easter to us all!"
Recall that Soludo had in a piece written in November 2022 described Obi's supporters known as OBIdients as a headless mob, fueling the insinuation that the use of the words again in the Easter message may have been in mockery of Obi's supporters.
The message had fuelled anger among OBIdients who reacted by verbally attacking Soludo online for his controversial Easter message.
See some of the reactions online.
"@shagbastic wrote: "This man na mumu man oo. Very mumu man."
@moore2life wrote: "When you double down in the wrong direction, the end of that journey is near."
@MabelRomanus wrote: "We are OBIDIENTS and not a mob."
@elijahsunny1 wrote: "That man is a pagan and knows next to nothing about Christianity."
@CollinsObineze wrote: "Soludo is insulting the intelligence of Christians. The elders, scribes, and Pharisees led the charge to kill Jesus. They instigated the crowd. They paid Judas, so where is the "headless" thing. Pilate was a leader which is a head. Scribes, Pharisees, Chief Priest are all heads."
@DebbySimon69 wrote: "It's only an f00lish Gov who doesn't respect Jesus Christ that will use" Mob" to pass Easter message. I think 50% of profs in Nigeria are useless, corrupt, and wicked."
@OgbajiJeffery wrote: "Obidients aren't mob, to begin with. The mobs should be APC thugs and the government which gives them the power to do so just like in the bible."
@AmasLincoln wrote: "Only shameless, pathetic, and cowardly individuals speak indirectly to their socio-economic and political opponents."
@ndibeuze wrote: "Mob is not a name, so obedient should not bother themselves reading the nonsense he wrote. If he is man enough, let him mention Obedient and direct his message to them and watch how they will eat him up. Daily post look for better news to post. Mob is not a name."