Bola Tinubu May Call Off London, Saudi Arabia Trip, Return To Nigeria After 'Rest' Abroad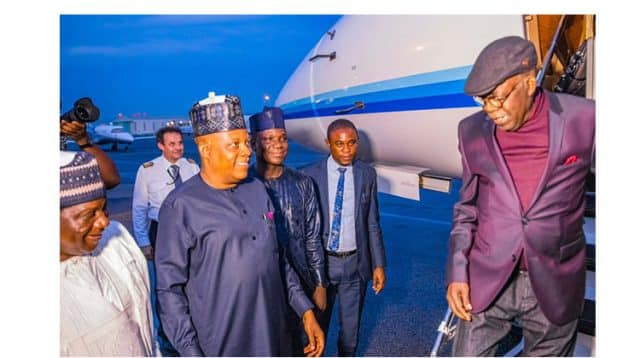 Indications have emerged that the president-elect, Asiwaju Bola Ahmed Tinubu, may call off his foreign trip and return to the country on Monday over the zoning crisis rocking the All Progressives Congress (APC) ahead of the inauguration of the 10th National Assembly.
A source in Tinubu's camp revealed that Tinubu might return to the country on Monday ahead of his May 29 inauguration, adding that the former Lagos State governor may have called off his scheduled trip to London and Saudi Arabia for Umrah to discuss with the leadership of the APC on the zoning of principal offices in the 10th National Assembly.
Those eyeing the Senate Presidency senate in the upper legislative chambers include; Jibrin Barau (Kano Central), Sani Musa (Niger East), Orji Kalu (Abia North), and Godswill Akpabio (Akwa Ibom North West).
Others are Osita Izunaso (Imo West), Peter Ndubuze (Imo North), Abdul'Aziz Yari (Zamfara West), and the incumbent Senate President, Ahmad Lawan (Yobe North).
While lawmakers battling for the Speakership are; Deputy Speaker Idris Wase (APC, Plateau), Yusuf Gagdi (APC, Plateau), Muktar Betara (APC, Borno), Ben Kalu (APC, Abia), Sada Soli (APC, Katsina), Tunji Olawuyi (APC, Kwara) Abubakar Makki (APC, Jigawa), Tajudeen Abbas (APC, Kaduna) and Aminu Jaji (APC, Zamfara).
The source told The PUNCH, "The camp of the president-elect is presently bubbling with excitement. We heard that Asiwaju has cancelled his Umrah trip and may return to Nigeria on Monday.
"Although we were not told the reason, I suspect that it must be in connection with the manner in which Kalu, Akpabio and (Jibrin) Barau are giving the APC sleepless nights with their lobbying campaigns."
Also reacting to the report of Tinubu's imminent return, the Director of Media and Publicity for the APC Presidential Campaign Council, Bayo Onanuga, said there was a likelihood he might return at the weekend or Monday.
"Yes, I understand that Asiwaju may not be attending the lesser Hajj again. He is likely to return this weekend or latest Monday," Onanuga stated.
Global World
But the Special Adviser to Tinubu on Communication, Dele Alake, stated that the president-elect does not have to return to the country to have a meeting with APC chieftains.
He denied that Tinubu's absence might be the reason for the delay in talks over the leadership of the 10th National Assembly.
He said, "How does the leadership of the National Assembly affect his coming and going? It is a global world. You can conduct your meetings and business from anywhere. For instance, I can be in New York and have an interview with anybody across the world. How does Asiwaju's absence affect discussion on the leadership of the National Assembly?
"I cannot really tell if he is returning this weekend. He has the freedom to decide when he will return. If he decides to come back tomorrow or next week, who am I to determine when he should?"