15 Burnt To Death In Enugu Road Accident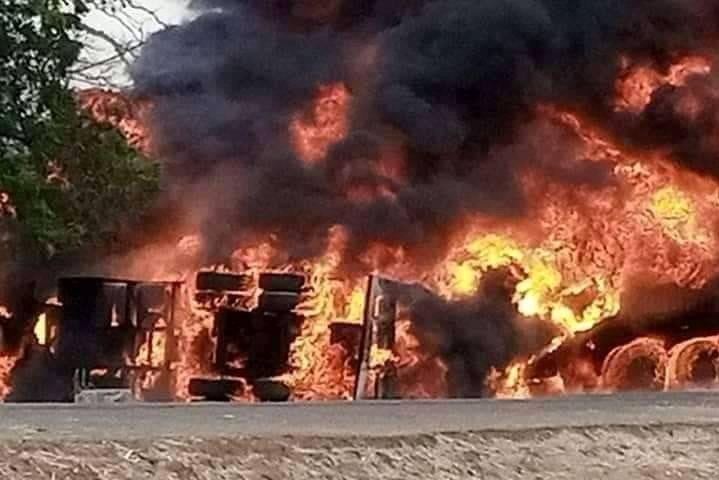 The Federal Road Safety Corps (FRSC), Enugu State command has confirmed the death of at least fifteen people in a tragic road accident that happened on Saturday.
In a statement on Sunday, the command's spokesperson, Bisi Kazeem, said the road crash was caused by excessive speed and route violation.
Reacting to the incident, the Corps Marshal, FRSC, Dauda Biu, cautioned motorists against night trips, adding that the Corps is ready to end all speed-induced crashes.
The statement read "The Corps Marshal, Federal Road Safety Corps, Dauda Biu has for the umpteenth time advised the motoring public to avoid night trips due to the dangers that come with it; while reaffirming the readiness and determination of the Corps to bring to an end, all speed induced crashes as he puts machinery in motion towards rejigging operational strategies for positive results.
"This came following a considerable increase in speed-related crashes and fatalities recorded in recent times, particularly the fatal crash that occurred at exactly 8:20 pm on Saturday, April 8, 2023, at 0.45km before the University of Nigeria Teaching Hospital, Ituku, Ozalla in Enugu State."
Naija News understands that the accident involved a Toyota Hiace commercial Bus and a Mercedes Benz Truck with registration number AAA264XR.
The FRSC command's statement revealed that a total of 15 people, comprising 13 occupants on board the Toyota Hiace and 2 occupants in the Mercedes Truck were all killed and burnt beyond recognition.
"The report revealed that the fatal crash was caused by excessive speed and route violation which is driving against traffic popularly referred to in local parlance as 'One Way'.
"The Mercedes Benz Truck driver in violation of established traffic rules drove against traffic thereby colliding into the Toyota Hiace commercial Bus that was already on a high speed.
"As at the time of filing in this report, the Chairman Nkanu West Local Government Council has authorized the commencement of a mass burial for the burnt victims in the presence of the Nigeria Police Force, FRSC, and other sympathisers," the statement added.
While reassuring the public of the Corps' readiness to combat crashes on our roads, the Corps Marshal said that unfortunately, most of the crashes that have occurred would have been avoided if the motorists all played by the rules and exhibited a high level of compliance to traffic regulations.
He, therefore, called on all road users to restrain from abusing traffic laws and always be safety conscious at all times.