CNG Reacts To Calls To Terminate Nnamdi Kanu's Trial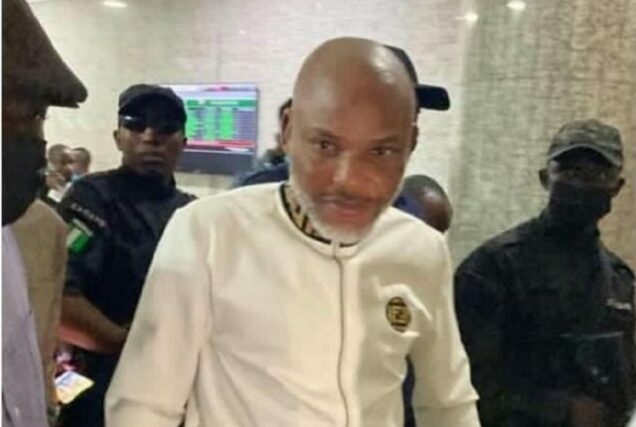 The Coalition of Northern Groups (CNG) has condemned renewed calls for the termination of the trial of the leader of the proscribed Indigenous People of Biafra (IPOB), Nnamdi Kanu.
Naija News reports that the CNG was reacting to calls by the Pan Igbo socio-political organisation, Ohanaeze Ndigbo, and other Ndigbo leaders who called for and end to Kanu's trial and his release from detention.
In a statement in Abuja on Saturday by its spokesperson, Abdul-Azeez Suleiman, the coalition described the calls as insane, unreasonable, unwarranted, thoughtless and unrealistic.
The group called on the Muhammadu Buhari government and the President-elect, Bola Tinubu, to disregard calls for Kanu's release, urging them to be resolute in the prosecution of the IPOB leader.
The statement read: "It is curious at this critical turning point for Ohanaeze and other Ndigbo leaders and collaborators to resurrect the calls for the release of a culprit who since 2016 has been responsible for the unrelenting disturbances created in the South-East and across the country in the form of a violent agitation for the separate State of Biafra.
"The Coalition of Northern Groups (CNG) is especially alarmed by the renewed pressure from the Ndigbo to secure the unconditional release of terror group leader Nnamdi Kanu from lawful custody.
"CNG has noted especially that the calls for Kanu's release without trial by Ndigbo leaders and groups have grown louder since the February 15 Presidential election and the consequent emergence of Asiwaju Bola Ahmed Tinubu as President-elect.
"We alert the incoming administration of Bola Tinubu on the dangers of falling for the antics of the Ndigbo that are aimed at causing mishaps and unnecessary devastation and driving Nigeria over the brink into a catastrophe.
"To specifically invite the attention of the incoming President Bola Ahmed Tinubu to remain vigilant as to the direction the country is headed so as to avoid the type of mistake committed by the late President Shehu Shagari in granting unconditional state pardon to the initiator of the Biafra project, Odumegwu Ojukwu which has proved counterproductive.
"He should bear in mind that the bulk majority of Kanu's casualties are from the North, the region from where he extracted the bulk of his winning votes.
"We remind him of the moral consequences of falling into the trap of the Ndigbo of the South-East from where he secured very insignificant support at the expense of his true friends and allies in the North who bear the brunt of the atrocities perpetrated by Kanu.
"Instead, the President should remain resolute in ensuring the diligent prosecution of Kanu, his sponsors, backers and collaborators in the heinous crimes against the Nigerian state and innocent Nigerian citizens.
"In order to prevent a descent into anarchy at this day and age, and to forestall mass killings, untold sufferings and atrocities, the federal government must not accede to the current pressure by Ohanaeze and its ilk to secure the unconditional release of the leader of a group that has been duly proscribed as a terrorist."