Benue Governor-elect, Alia Meets Buhari, Speaks On Probing Ortom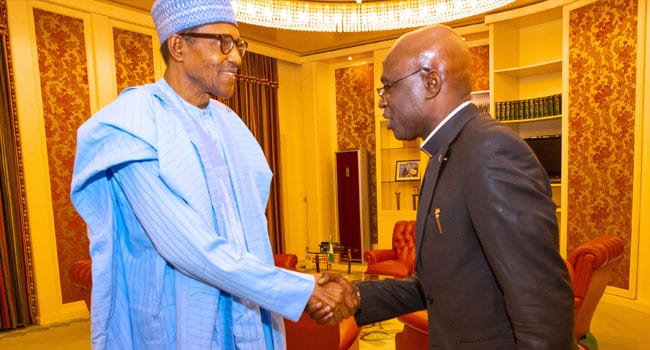 Benue Governor-elect, Hyacinth Alia, met with President Muhammadu Buhari behind closed doors at the Presidential Villa on Wednesday, April 5, 2023.
Naija News reports that Alia won the March 18th governorship election in Benue on the All Progressives Congress (APC) platform. The Catholic cleric would assume office after his swearing-in on May 29th.
Shortly after meeting with President Buhari on Wednesday, Alia addressed State House correspondents where he was asked if he would probe his predecessor, Governor Samuel Ortom.
Alia, who lamented the Benue State's deteriorating civil service state and called it a "near-death" situation that required intensive care, said he could not say yet if he would probe Ortom until he entered the office and did some due check.
He further criticized the state's civil service, reiterating that it is near collapse and downgraded the Intensive Care Unit (ICU), but boasts that he has come to infuse life into it and keep it moving.
Alia noted that the state owes a backlog of salaries, pensions and gratuities, and he hopes to remain focused and tackle the myriad of issues on his desk when he takes over office on May 29.
Speaking further on if he will probe Ortom against the backdrop of his letter to the Benue Investment Property Company, warning them of financial transactions with the incumbent governor, Alia said: "I haven't looked at the books, so I wouldn't want to be quite preemptive. Once I'm sworn in, I know what the good people of Benue want for our progress and development.
"And there's so much that we need to put on track for things to work. Benue state is an agrarian zone, so we must focus on agriculture and upgrade it.
"Benue is very capable of feeding the whole nation, so we are not just the food basket of the nation by name, and I am hoping that we will up our game in agriculture and take care of the rest as well.
"It is sad that the life of civil service in the state is near collapse, it's in the ICU, so I just need to get in there and infuse life in it and keep it moving."
Alia noted that there is already a lot of backlog of unpaid salaries, pensions and gratuities in Benue State. He acknowledged that he has got much on the desk to keep a good focus when he assumes office.
The Benue governor-elect sang the praise of President Buhari for making a firm decision for the elections to take place. On the animosity that pervades the state over the anti-grazing law, Alia said: "One thing must remain clear, when you say that the atmosphere was quite tense, let it be on record that the Benue people are very hospital people.
"We are very friendly people and have lived with all cultures and different people over the ages. And so if some mishap had happened in the last eight years, thank God the eight years have expired.
"I want everyone to feel that Benue is a home for everyone. Remember, before I am stepping in there as a governor, our history reveals that we have all cultures in Benue, and so it is, we have all cultures in Nigeria in Benue.
"So I believe my time will not be any different. If there were some errors, I am coming to correct them. But I know for sure we are hospitable, we are friendly, and the Benue State Assembly is also a knowledgeable Assembly.
"So the 10th Assembly is going to work for the people and do the work of the people. If by chance anybody perceived us to be a hostile state, please we are a renewed hope of Benue, a hospitable, friendly, law and order people.
"So, we are all welcome to Benue as we move in there."