Leaked Tape: Audio Is Completely Fake, APC Scared Of Peter Obi – Labour Party Insists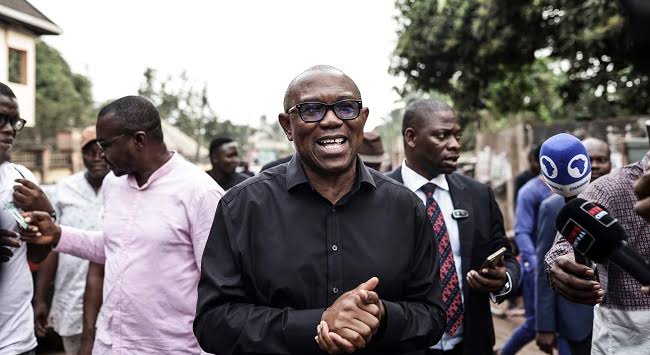 The Labour Party has accused the ruling All Progressives Congress (APC) of doctoring the leaked audio allegedly of its presidential candidate, Peter Obi, and popular cleric, Bishop David Oyedepo.
Naija News recalls that an audio purportedly of Obi and Oyedepo had gone viral on Saturday, where the LP candidate was alleged to have described the just-concluded presidential election as a religious war.
However, the Obi-Datti Media Office, via its spokesperson Diran Onifade, had accused the APC of being behind the audio and propaganda to tarnish Obi's image.
Speaking in an interview on Arise TV on Sunday, the Labour Party National Secretary, Farouk Umar, accused the spokespersons of the APC Presidential Campaign Council of being afraid of the political movement embodied in its presidential candidate, Peter Obi.
According to Umar, the leaked phone conversation was distorted by the APC to convey a religious narrative against Obi.
He said: "When you change the original content of an information, that information becomes fake.
"We have arrived at the conclusion that the audio is a fake audio, completely fake.
"We have it on record that the APC spokespersons have dared the Obidient that we are going to see media attacks."
He accused the APC and other opposition parties of carrying out a blackmail campaign against Peter Obi.
He said, "The opposition underrated the power of Nigerians to have good governance, they underrated everybody, the Obidient movement.
"When the (presidential election) voting was going on, before they realised that something is coming, that the wind, the movement is really coming to consume them, that is when they woke up to realize that there is a problem.
"So now, having gone to the ballot, having done what had done to doctor the results which we are still contending in court, they have no option now than to start blaming and accusing, blackmailing him (Peter Obi), bringing in disunity and religion.
"Obi is a movement, and he is sending fear into the powers that be; they never thought it was going to be like that, they didn't know that Nigerians are so desperate for change, the narrative has already been changed, things are not going to continue the way they think it should be, Nigerians will never feel as if they are refugees in their own land."