NDLEA Declares Nigeria Prophetess, Others Wanted Over Alleged Drug Trafficking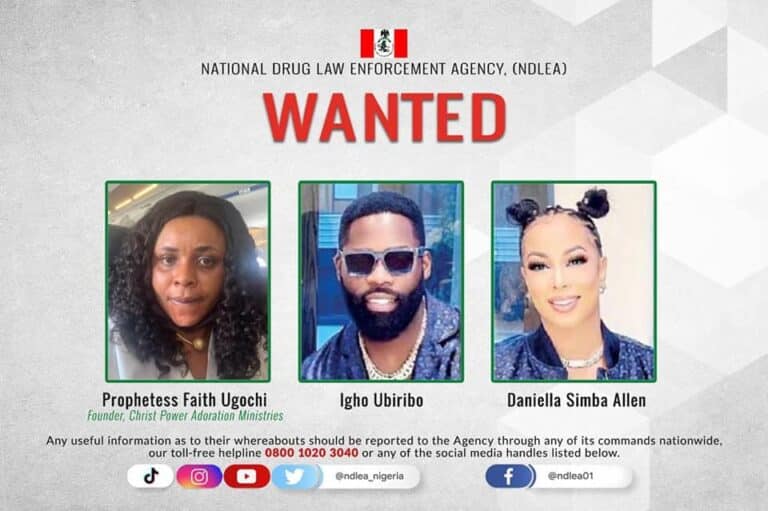 A Rivers state-based cleric, Prophetess Faith Ugochi, has been declared wanted by the National Drug Law Enforcement Agency (NDLEA).
The Port Harcourt command of the federal government agency is investigating Ugochi and a celebrity couple, Igho Ubiribo and Danielle Simba Allen, over an alleged link with drug trafficking.
Naija News understands that Ugochi founded Christ Power Adoration Ministries, a church based in Port Harcourt.
Ugochi, alongside her accomplices, were allegedly recruiting teenage girls into drug trafficking while they served as the arrowheads of an international syndicate operating from Los Angeles, USA.
The lid was reportedly blown off the cartel when NDLEA operatives at the NAHCO import shed of the Murtala Muhammed International Airport, Ikeja Lagos, intercepted a consignment of 32.70 kilograms of Loud, a strong variant of cannabis concealed in cartons of used wears on Wednesday 16th November 2022.
The NDLEA operatives reportedly arrested a freight agent, Ukoh Ifeanyi Oguguo, who helped with other information leading to the arrest of four more suspects: Chikodi Favour, Obiyom Shalom Chiamaka, Nnochiri Chidinma Promise and Edward Omatseye (aka Montana).
Favour, a 15-year-old girl was the first sales girl arrested at a fuel station in the Ajah area of Lagos, Naija News learnt.
She thereafter led the operatives to a duplex accommodation around the Ikate area of Lekki, which was later discovered to be a rented apartment by the criminal group purposely for four young girls that the syndicate uses for marketing and distribution of illicit drugs. Another girl, Shalom, a fresh Agricultural Science graduate from Rivers State University of Science and Technology, was picked from the house alongside Favour.
A preliminary investigation revealed that the syndicate rented another building used as a drugs warehouse inside Richmond Estate, Lekki, when operatives located the house. It was discovered that other syndicate members had broken into the store and carted away bags of illicit substances.
However, some illicit drug paraphernalia, including a sealing machine, bloating machines and packaging bags, were recovered from the warehouse. A follow-up operation led to the arrest of Edward Omatseye at his residence around Lekki area. Edward confessed during an investigation to working for Igho and his wife, Danielle, who is identified as the overall head of the criminal group.
The investigation was able to establish that Favour and Shalom were recruited as salesgirls in the illicit drug trade by Prophetess Faith Ugochi of Christ Power Adoration Ministries, using her church platform to recruit teenage girls brought to her for help, on behalf of the celebrity couple: Igho Ubiribo (aka Tiny) and Danielle Simba Allen (aka Dani), who are the owners of the business, while Edward Omatseye (aka Montana) coordinates the illicit drug trade activities for them in Nigeria, with Nnochiri Chidinma Promise as representative of Ben Cargo Ltd, a freight company responsible for the shipment of illicit consignments into the country.
While Nnochiri Chidinma Promise and Edward Omatseye (aka Montana) have already been charged to court and are currently facing trial at the Federal High Court, Lagos alongside Ben Cargo Ltd, a freight company which had been linked to two previous drug seizures and also involved in the current case, several attempts to get Prophetess Faith Ugochi, Igho Ubiribo and Danielle Simba Allen submit themselves for questioning have proved abortive.
Naija News learnt the NDLEA sent a letter of invitation to Prophetess Ugochi on 28th November 2022 and the letter was reportedly received and acknowledged by her mother, with whom she runs the Church.
After a long wait, the letter was followed with a reminder on 9th January 2023. In the same vein, invitation letters were also reportedly extended to Igho Ubiribo and Danielle Simba Allen.
A reminder was also sent when the couple was not ready to respond to the first invitation. While Prophetess Ugochi fled her home and went into hiding but continued her prophetic ministration on Facebook, the duo of Igho and Danielle initially sent a legal representation to ask for another time to honour the invitation, they have since gone incommunicado.
Curiously, they hurriedly moved all funds traced to their company Lasgidi Backwood Ltd where all proceeds from the sales of illicit drugs were deposited into a private account of one Victor Imagoro.
The NDLEA has since blocked the sum of Eighty Million Naira (N80,000,000) traced to the account and obtained a court order to seize all properties, including a fuel station linked to the suspects in Lagos and Port Harcourt.
The federal government agency further sought and obtained an order of the Federal High Court Lagos to declare wanted the celebrity couple: Ubiribo Igho and Danielle Allen, as the arrowheads of the illicit trade as well as Prophetess Faith Ugochi, who recruits teenage girls as sales representatives for the duo.